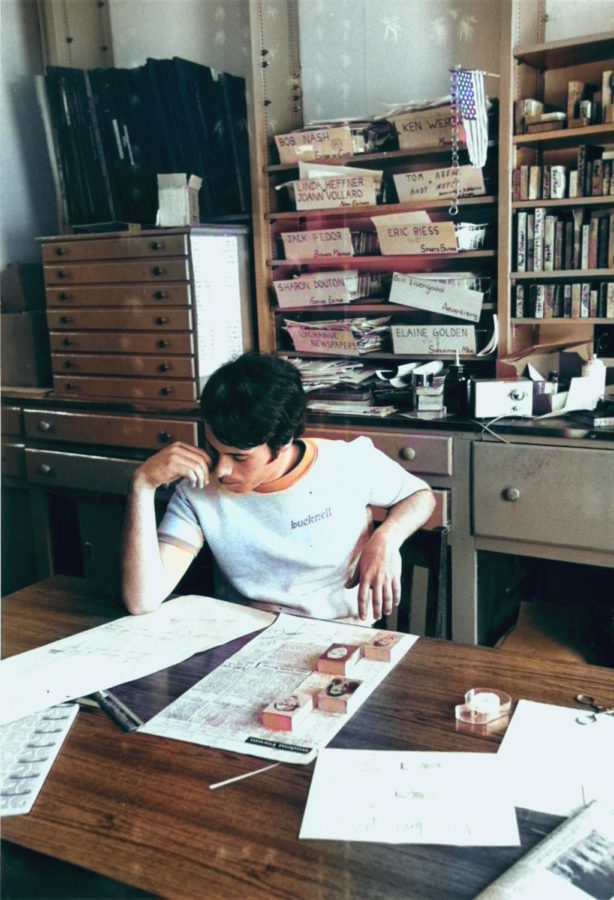 Bucknell University Archives
This year the Bucknellian turns one hundred and twenty five years old. The first Bucknellian editor-in-chief assumed power the same year that William McKinley was elected; Civil War veterans would have been reaching middle-age; Arizona and New Mexico had not yet been admitted as U.S. states; and the Great Depression was still 30 years hence. 
This "University at Lewisburg" graduates nearly a thousand each year – compared to the three-dozen-strong classes of the nineteenth century – grew majors from five to beyond 60, expanded both uphill and downtown, and shifted with the tide of higher education nationwide.
That founding Bucknellian staff – well, the Orange & Blue then, with a 1915 name change "to make the paper itself more representative" – found it incumbent upon themselves to start something new, a new chronicle of the students of the University (see their first editorial on B4).
As the current editorial staff of the Bucknellian reflects on this century-plus legacy of independent student journalism, we find it important to ask what it really means to be student journalists. Often, as was pointed out in a 1983 editorial by then-editor-in-chief Nancy Campbell, this tradition has been undervalued; Campbell noted that the lack of "credit and/or monetary reward for the job [journalists] do" forced the paper into its first and only serious succession crisis in late 1983. 
But despite these problems, the paper has continued to pursue its mission to provide coverage on issues vital to the campus community. During the height of student activism in the latter half of the 20th century, the Bucknellian was utilized to coordinate protests against the Vietnam War and the South African apartheid system. In 2008, amid a systemic omission of reporting on campus sexual assault by Public Safety, it was the Bucknellian who broke this silence in an award-winning article on Public Safety's obligations under the Clery Act and the increase in assaults it had underreported. A 2020 article by Spandan Marasini highlighted the widespread food insecurity issues that had plagued campus facilities for years. And just this year, the Bucknellian provided coverage of a scandal involving the University's former Chief of Public Safety, who allegedly allowed a suspect in a student conduct investigation to delete evidence of potential sexual harassment off his phone. In each case students took the initiative to provide students, faculty and staff with the highest possible-quality reporting on the issues that mattered to them.
This lengthy heritage of commitment to truth and justice makes us, the Editorial Board, immensely proud to have continued this tradition into our 125th year of publication. 
In a time and place increasingly defined by a polarized media and press landscape, we are also proud to have provided objective, factual reporting that transcends party affiliation. Only a few publications continue to satisfy such a role; fewer have the platform to be in front of those students soon to go out into the "real" world.
Ever since the beginning of independent media as a social institution, coverage of issues has been ultimately defined by opinion – opinions on what and who is important to highlight, what stories to prioritize and what audiences to consider. But in the modern world, the idea of "opinion" has morphed, distorted from the presentation and contestation of arguments, to the caricature of facts, vitriolic repudiation of critique, and fundamental questioning of the concept of truth. At the national level, news organizations with divergent opinions tend to create entire alternative realities for their respective audiences; not only can these groups not agree on the solutions, they cannot even define the problems according to the same statement of facts. As a consequence our national community has, in effect, split into competing social realities. This has knock-on effects for politics, but also for friendships, family, and understanding of the world around us.
Rather than iterating this national problem at a local level, the Bucknellian endeavors to unite its constituency around a common understanding of the facts, problems and future of the University. Eluding the simple dichotomies often posed by national news outlets, the Bucknellian has sought to provide tough – but balanced and informed – answers to equally tough questions on college campuses. From fights for higher wages among faculty and students, to housing, free speech, the Board of Trustees, issues of gender and race and the general purposes of a higher education institution, the Bucknellian has been at the forefront of the debates that have defined both national and local discourse over the past century-plus. In addition to these short-term topics, however, students have also used the Bucknellian to comment on and draw attention to longer-duration debates of interest to them. Looking back through the pages of issues past, readers will find our writers discoursing on everything from standardized tests to controlled substances to Vietnam, Iraq and Afghanistan – no two articles merely reiterating someone else's thoughts or promoting uninspired talking-points. As a consequence, out of all of our activities during our four years at the University, probably the single most consistent source of new and novel information about the world has come from reading students' submitted opinion articles for edits and publication. 
Even more important than the Bucknellian's commitment to these issues, however, is the fact that there are few organizations left pursuing such a mission. Though the student station WVBU does provide some coverage of student activities and issues, the Bucknellian is the only source of regular, rigorous investigative reporting which gives voice to a broad swath of the student population. In this sense, the relevance of the student paper to the University's campus is as clear in 2022 as it was in 1896, when the paper began. 
A campus community like the University's will always require a group of people willing to inform neighbors, friends and community members on issues important to them, and provide avenues for action. 
So long as this remains the Bucknellian's mandate – to 125 more years!