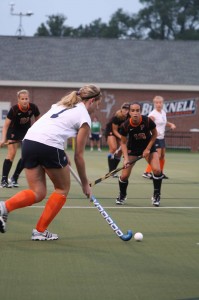 Sami Shein
Writer
The women of the Bison field hockey team trained hard all summer in preparation for two tough tests to begin their 2012 campaign, including one against UConn, who are recent NCAA Tournament semifinalists.
"This [was] a big game for us, but we have definitely put the time in," said captain Tayler Siegrist '13. 
Story continues below advertisement
Although they did not come out on top against UConn, falling to the Huskies 3-0, their hard work over the summer paid off just a day later as they rallied to defeat Fairfield 2-1.
"The team follows a summer workout packet and does their best to train no matter if they are on campus, at home or abroad," assistant coach Jamie Montgomery said.
Kelsey Mucelli '15 stayed on campus all summer and trained with strength and conditioning coordinator Jerry Shreck and later teamed up with Rachel Misko '14, Erica Perrine '14 , and Vickie Resh '14 to play in the USA Field Hockey program on the New Jersey High Performance Squad.
Rigorous team training started on Aug. 9 with three practices a day at Graham Field. The morning practice consisted of many drills to sharpen their skills such as dribbling, passing and shooting. The nighttime practice was dedicated to game-like situations such as scrimmages and working on plays. The mid-day practice was a combination of the two. Additionally, running was interspersed throughout all the practices to keep the girls in top shape and to make sure they beat opponents to every ground ball.
Not only did the girls run and condition to be in top shape, but they fueled their bodies in other ways to feel strong and energized.
"We always tried to feed our bodies with the right food," Siegrist said.
There was no unified diet, but each player looked out for themselves to provide their body with proper nutrients. The team recognizes that there is definitely an increase in competition this year, but it has only motivated them to train harder, stay focused and take care of their bodies. The Bison dedicated themselves to an environment of zealous training, teamwork and camaraderie, which is sure to pay off this upcoming season.
(Visited 152 times, 1 visits today)