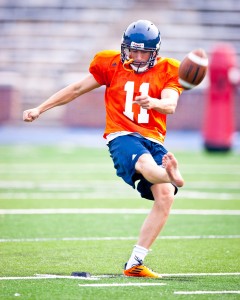 Eric Brod
Senior Writer
Coming off the momentum of their turnaround 2011 season, the football team opened up the 2012 campaign with a hard-fought 19-17 win over Marist. The offense was led by quarterback Brandon Wesley '14, who was 20-27 for 190 yards and two touchdowns.
Story continues below advertisement
Wesley put together a masterful game-clinching drive, which spanned 14 plays, seven minutes and 23 seconds. The drive was capped by a 36-yard field goal by Sean Cobelli '14. Jeremiah Young '13 ran for 35 yards on seven plays after last year's leading rusher, Tyler Smith '13, left the game early with an ankle injury.
Marist was able to close the gap to 19-17 after quarterback Chuckie Looney led them on a 10-play, 80-yard drive, but the Red Foxes were unable to recover the ensuing onside kick with 31 seconds remaining.
The Bison took a 7-0 lead early in the first quarter on a touchdown pass from Wesley to fullback Travis Friend '14. The drive was set up by a fumble recovery returned 55 yards by safety Ryan Morgan '14. Marist responded by tying the score at seven late in the first quarter, but the Orange and Blue regained the lead on a 22-yard Cobelli field goal to take a 10-7 lead. The Bison extended their lead late in the second half to 16-7 on Wesley's second touchdown of the game, this one to Jake Flaherty '14, capping an eight-play, 43 yard drive.
Quite possibly the most impressive part of the win was that the offensive line, featuring four new starters, did not allow a sack and was able to give runners enough space to run, as the Bison averaged 3.7 yards per carry. Head coach Joe Susan attributes the offensive line's success to composure and a balanced offensive attack.
"Our offensive line did a good job maintaining their composure. That is critical in their first start together," Susan said. "Our effectiveness was enhanced by being able to balance the offense."
Susan also noted how Wesley and the line worked together to make each other's jobs easier.
"They did a very good job in protection, especially against a pressure front," Susan said. "Brandon was smart with the ball and our passing game is based on timing. Hence, we did not give up a sack."
Despite being outgained offensively 366 to 332 by Marist, the Bison were able to use a balanced attack to efficiently break through the Marist defense. The Bison racked up 142 rushing yards and 190 passing yards.
On defense, the team was led by Morgan and Evan Byers '15 with eight tackles each. On offense, receiver Victor Walker '14 had six catches for 81 yards.
The Orange and Blue, leading the nation in turnover differential last season, were even in the category on Sept. 8, with two turnovers a piece for each team.
The Bison next travel to Newark, Del. to take on the Delaware Blue Hens tomorrow at 3:30 p.m. before opening at home on Sept. 22 to open Patriot League play against Lafayette. Susan expects the team to be ready to face the challenges Delaware will create.
"We will continue to improve as a team and make necessary adjustments in scheme and personnel to do so. Delaware poses different challenges as they have excellent skill offensively and a very good defensive front," Susan said. "We have to be more secure with the ball and control it to keep their offense off the field. Field position will be a critical factor in this game."
(Visited 118 times, 1 visits today)