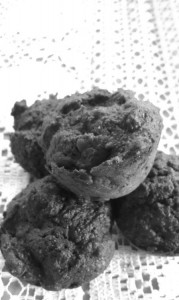 Katie Mancino
Staff Writer
Double Chocolate Mini Muffins!
Story continues below advertisement
38 calories, 1g fat, 9 carbs, 1g protein
These little muffins are a perfect healthy snack and will really satisfy that chocolate craving! They're quick and easy to make in a total of 20 minutes and keep well in the freezer. I like to toss a few mini muffins in small Ziploc bags and freeze them so I always have healthy treats around. They're excellent when warmed in the microwave, too!
Ingredients:
1 Tbsp Land O' Lakes Light Butter
1 egg white
1/4 cup Vanilla Silk Light Soymilk
1 tsp vanilla extract
1/4 cup dark cocoa powder
3/4 cup whole wheat flour
1/2 cup Truvia Baking Blend
3/4 tsp baking powder
1/4 tsp salt
3 Tbsp mini chocolate chips
Directions
1. Preheat oven to 350 F (177 C) and spray mini muffin tin with nonstick spray.
2. Beat butter and sugar together until light and fluffy.
3. Add soymilk, egg white and vanilla.
4. Mix in everything else.
5. Add 2-3 teaspoons of batter to each mini muffin cup (about 3/4 of the way full).
6. Bake for 15 minutes.
(Visited 51 times, 1 visits today)