Football falls to No. 13 Delaware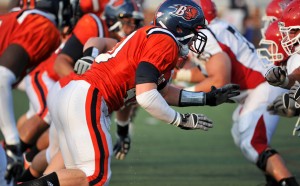 Eric Brod
Senior writer
Head coach Joe Susan returned to his alma mater, Delaware, last Saturday, and despite a hard fought effort from the Bison, they were unable to get past No. 13 Delaware in a 19-3 defeat.
The Blue Hens' offense was averaging 40 points per contest, but the Orange and Blue defense held the Blue Hens from getting a touchdown during their first three trips inside the Red Zone. However, Delaware kicker Sean Baner tied their school record with four field goals.
The Bison's score came from the first play of the second quarter on a 21-yard field goal by Sean Cobelli '14. The field goal finished a 13-play, 80-yard drive led by quarterback Brandon Wesley '14, who was stopped four yards short of the goal line on a third-down play.
By the end of the first half, the Bison had an offensive yard advantage over the Blue Hens, 174-132, but found themselves trailing 6-3 at the half. The Blue Hens pulled away in the second half behind running back Andrew Pierce, who rushed for 101 yards on 21 carries. 
"We need to eliminate negative yardage runs. This puts your offense off schedule when it comes to down and distance. We also had some pre-snap penalties," Susan said. "Against a team like Delaware, you must be right in both of these instances."
Despite the loss, the Bison showed why they are considered one of the most improved teams in the Patriot League and why they are serious contenders for the league title this year. The defense was led by linebacker Evan Byers '15, who tied a career-high 10 tackles, and safety Ryan Morgan '14 added in nine. Sean Sellers '14 led the defensive line with 1.5 sacks, one of which resulted in a 15-yard loss on a third and goal for the Blue Hens early in the game.
"Our defense played hard the entire game. We knew that we would have to challenge Delaware by defensive front movement and both linebacker and secondary pressure," Susan said. "We limited their big plays, which can change the score quickly. We attacked their offensive line and that was a key throughout."
On offense, Wesley completed 21 of 37 passes for 197 yards, and Jeremiah Young '13 led the rushing attack again with 11 carries for 44 yards. It was also a milestone for wide receiver Victor Walker '14, whose six catches for 74 yards put him over 1,000 receiving yards in his career.
"We came out of the game healthy. That is critical as we move into league competition. Our team is focused on doing what it takes to win," Susan said.
The Bison will look to rebound tomorrow in their home opener against Lafayette. Kickoff is scheduled for noon at Christy Mathewson-Memorial Stadium.
"I would like to send a personal message to the Bucknell students and faculty: please come to our game this Saturday. The game is televised nationally on CBS Sports Network. Please join us and support your team," Susan said.
(Visited 65 times, 1 visits today)