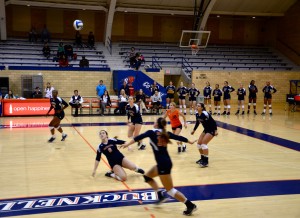 Katherine Harris
Writer
The women's volleyball team wrapped up its first round of Patriot League play last weekend, ending in losses to both American and Navy at home.
The Bison went up against a tough American team on Oct. 12. While they put up a strong fight in pushing the Eagles to four sets, the team ended with a loss for the night. Since the Orange and Blue have lost in straight sets in their last four meetings with American, they considered their performance to be a definite step in the right direction.
Story continues below advertisement
"This past weekend we came out really strong against American. We truly gave it our all but still weren't able to come through with the W. We made American earn every point that they received on the scoreboard," Claire Healy '16 said.
Many individuals performed strongly for the Bison in the match. Morgan Mientus '14 recorded her first double-double of the season with 15 digs and 13 kills, while Karen Campbell '16 racked up 10 kills and four blocks. Healy recorded 11 kills, Meghan Wentzel '16 totaled 28 assists and Katie Price '16 brought in a career-high 20 digs on the night.
The Orange and Blue then hosted Navy on Oct. 13. The team struggled to bring the same intensity as the previous night and lost in three straight sets to the Midshipmen.
"We just have this issue where not everyone is 'on' on the same night. Some of us will be playing so well one game and then struggle the next," Mientus said.
Mientus racked up nine kills and six digs on the day, while Healy gained her fourth double-double of the season, recording 13 kills and 11 digs. Wentzel also once again led the Bison in assists for the match, this time bringing in 13 for the team.
The Bison will begin their second round of Patriot League play tonight at 7 p.m. as they host Lehigh. Though they lost 3-1 in their first meeting with the Mountain Hawks, the team is confident that this could be the game to break their losing streak.
"We definitely need some consistency and hopefully the juniors and sophomores can step into the starting line up a bit more and use our experience to provide more consistency," Mientus said. "Going into the second half of Patriot League play, I hope we can redeem ourselves and show the teams that we are indeed a force to be reckoned with!"
(Visited 56 times, 1 visits today)