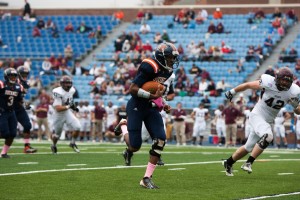 Eric Brod
Senior Writer
Despite an impressive offensive performance on Oct. 27, the Bison football team was unable to snap its six-game losing streak, falling to league rival Colgate 47-33. The Orange and Blue are now 1-7 (0-4) on the season. Despite the loss, quarterback Brandon Wesley '14 set the all time record for career completions with 425.
The offense was once again led by Jeremiah Young '13, who rushed for 131 yards on the day. Colgate opened up the scoring on quarterback Gavin McCarney's five yard scamper, which was part of his 18 rush, 121 yard performance.
Story continues below advertisement
The Bison were able to close the gap to 7-6 on a pair of Sean Cobelli '14 field goals. The first score came off a 10-play drive with a 27-yard run by Young and a 22-yarder by Wesley. The second field goal was set up by an interception by safety Matthew Steinbeck '15, his fourth pick of the season and third in the last two weeks. The defense was unable to stop the Colgate attack as the Raiders scored a touchdown on each of their next six possessions.
"Colgate is one of the better gun-run read teams I have seen. This is option offense without a pitch phase," head coach Joe Susan said. "Their quarterback and running back do a great job of making the read late and are very hard to tackle as they are both big and physical players."
The offense was able to keep the team in the game for most of the second half, as they engineered touchdowns on three of their first five possessions. The scores came on a 10-yard run by Young, a 38-yard reception by Josh Brake '15 and a three-yard run by running back Tyler Smith '13.
Despite the loss, the offense showed great improvement from previous weeks as they broke the 21-point mark for the first time all season and scored over 30 points for the first time since October of last year. Brake led all receivers with a career-high 87 yards receiving, while Victor Walker '14 had five catches for 49 yards. Wesley finished the day 22-38 passing for 208 yards.
"Our offense was smart with the ball, as we did not have any turnovers. We did a great job in yardage after initial contact," Susan said. "We were effective in creating big plays which we call fly by yardage."
The Bison return to action tomorrow as they host Fordham. Kickoff is scheduled for 1 p.m. at Christy Mathewson-Memorial Stadium.
"We will work to use misdirection to exploit their aggressiveness. They play a lot of man to man coverage and we must be effective against that," Susan said.
(Visited 81 times, 1 visits today)