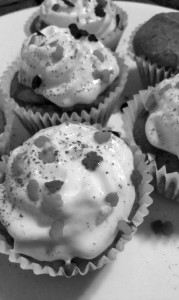 Katie Mancino
Writer
Fat Free Pumpkin Cupcakes
75 calories, 0g fat, 20 carbs, 2g protein
I'm a total pumpkin addict, so luckily this is the time of year to make tons of pumpkin flavored things. These cupcakes are filled with cinnamon, nutmeg and ginger, giving it that delicious pumpkin-pie spice. You could also substitute a pumpkin-pie spice blend for these different spices. I decorated mine with a swirl of fat free Reddi-wip, a dash of cinnamon and some fall themed sprinkles. At only five additional calories (for two tablespoons), fat free Reddi-wip is a perfect low calorie alternative to frosting, and tastes fantastic on these cupcakes!
Story continues below advertisement
Makes 20 cupcakes
Ingredients
1 cup canned pumpkin
1 cup Truvia Baking Blend
2 egg whites
1/4 cup Silk Light Original Soymilk
1/4 cup packed brown sugar
1/2 Tbsp baking powder
2 tsp cinnamon
1/2 tsp nutmeg
1/4 tsp ginger
1 1/2 cups all purpose flour
Directions
Preheat oven to 350 F. Lay out cupcake liners.
Blend sugars and pumpkin.
Add egg whites, soymilk and spices.
Mix in flour.
Add two heaping tablespoons of batter per cupcake liner (about 2/3 of the way full).
Bake 20 minutes.
Decorate and enjoy!
(Visited 101 times, 1 visits today)