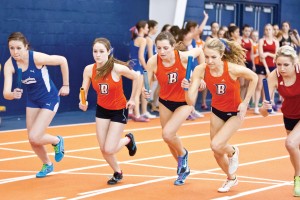 Lauren Boone
Writer
The Orange and Blue claimed four gold medals at the Bucknell Winter Classic, the last regular season meet before the Patriot League Championships. Abby Monaghan '13 defended her weight throw title from last year, while three first-years claimed new titles.
Story continues below advertisement
The Bison tasted a portion of their success in the field events. Monaghan won the weight throw event, posting a mark of 51-3. She broke the 50-foot barrier for the first time in the past three competitions.
In the pole vault, Emily Ando '14 cleared 11-3.75, tying for first place. In the shot put event, Sophia Nnadi '16 claimed victory with a mark of 43-10. This was the first time that Nnadi broke the 40-foot mark. This was also Nnadi's first collegiate victory.
The Orange and Blue were also victorious in the sprints. Jess Bridle '16 took first place in the 200-meter race with a time of 26.05, while Chrissy Haney '16 claimed victory in 1:18.74 in the 500-meter race. In the 60-meter event, Kim Nagotko '15 took third with 7.88. In the preliminary round, Nagotko recorded a new personal best time at 7.80.
"This weekend was great for individuals, including myself, and for the team as a whole. I believe this was a high intensity meet because it was the last indoor meet for the seniors. Not only were the seniors high in spirits and putting all of their effort in their last throws, but all individuals were trying to accomplish their goals before the league meet. I definitely exceeded my goals and I'm super happy about that," Nnadi said. "I look forward to competing in my first league meet this weekend and to finish my indoor season with the team."

The Bison will be back in competition this weekend at the Patriot League Championships. They will defend their title on Army's turf in West Point, N.Y. from Feb. 15–17.
(Visited 289 times, 1 visits today)