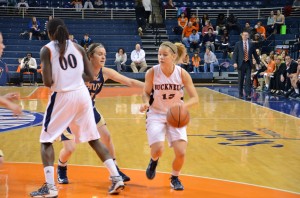 Ajan Caneda
Copy Editor
The women's basketball team concluded its regular season with a remarkable 55-48 Senior Night victory over Navy in Sojka Pavilion on March 2. Seniors Ashley Baxter, Alyssa Dunn, Lindsay Horbatuck, Felicia Mgbada and Rachel Voss were honored before the game and all five seniors were in the starting lineup for the Orange and Blue.
Story continues below advertisement
With the win, the Bison clinched the sixth seed in the Patriot League tournament, finishing with a 14-15 overall record (5-9 in conference play).
"Senior Night brought a mix of emotions. Before the game, Coach [Aaron] Roussell told us that we had a chance to make that night one to remember and that simple realization really motivated us to fight hard for the result we all wanted so badly," Dunn said.
Navy started the game with momentum from the three-point line, draining three straight shots from behind the arc to gain an 11-2 lead. Mgbada opened with seven straight points to keep the Orange and Blue within striking distance, and Audrey Dotson '15 sunk a three-pointer to cap a 10-0 run for the Bison, giving them their first lead of the game.
"My mindset was that it was Senior Day, it might be the last time our fans get to see us play and a lot of people came out to support us. We started out slow, but once we got the nerves out and a little sweat going, there was no stopping," Mgbada said.
The Bison continued to keep up the defensive pressure, holding Navy without a field goal in seven minutes of play. The Orange and Blue were down 26-23 at halftime, but shot 50 percent from the field (10-20), while holding the Midshipmen to 28.6 percent shooting (8-28) in the first half, including 5-18 from behind the arc.
"We knew that Navy was going to shoot a lot of threes, but we wanted to minimize those as much as possible while contesting the ones that they did get," Dunn said. "As a team, we also focused on neutralizing their inside presence and we all did a great job making the game difficult for their post players in the paint."
The Orange and Blue began the second half on an 18-6 run. Katherine Harris '15 started the blitz with a three-pointer, while Dotson contributed eight points to build a 41-32 lead. Navy kept the game within single digits, but the Bison's balanced effort guided them to the win.
Dotson was the leading scorer with 17 points on 7-8 shooting. Mgbada added 13 points and Horbatuck continued her strong post play with 11 points and 16 rebounds. Her 299 rebounds this season places her second on the program's single-season rebounding list. After a strong performance by all three forwards, the Bison set a program record with 1,227 rebounds this season.
"Coach [Roussell] said to us before the game that this game has the chance to be a highlight of our career, winning a huge game on Senior Night. We all fed off of each other's energy and when we started hitting shots in the second half there was no looking back from there. That game was a true example of a team effort," Horbatuck said.
Two Bison players were recognized for their regular season achievements. Shelby Romine '14 was named Second Team All-Patriot League, while Horbatuck received Academic All-Patriot League Team honors. Horbatuck led the Patriot League in rebounding (10.3 RPG) and Romine finished third in league scoring (13.4 PPG).
(Visited 164 times, 1 visits today)