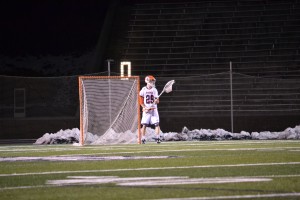 Goalie Kyle Feeney '13 has been an integral part of the men's lacrosse team's successful season. Already eighth all-time on the school's career saves list, Feeney's continued excellence defending the net has played a big part in the Bison's current 9-2 record this season. In January, Feeney was selected in the eighth round of Major League Lacrosse's Collegiate Draft by the Charlotte Hounds, one of two goalies and seven Patriot League players overall that were selected.
Feeney is putting the finishing touches on a fantastic career as a Bison. He was a second-team All-Patriot League selection in 2011, the same year he set a school record with 13 wins. During that season, Feeney was in goal for every game as the Orange and the Blue charged towards an eventual Patriot League Championship, and he excelled in the playoffs by recording 17 saves while allowing only eight goals.
During his junior year last season, Feeney was a first-team All-Patriot League selection, and he recorded a career high 169 saves.
Feeney's stiff goaltending has made a direct impact on several outcomes this season. His 11 saves in the season opener against Delaware helped protect the team's eventual 9-8 win, including stopping a Delaware charge with 20 seconds remaining. Feeney also had three saves in the final 66 seconds of a game against Bryant to preserve the Bison's 10-8 victory. Finally, Feeney's six saves proved vital for the Orange and Blue's 9-8 upset of No. 2 Cornell.
Story continues below advertisement
Feeney's success will hopefully aid the Bison in their quest for another Patriot League Championship. Come out and see Feeney and the rest of the men's lacrosse team play their final home game against Lehigh next Friday.
Hometown: Greenwich, Conn.
Major: Civil Engineering
Win-loss record (this season): 9-2
Win-loss record (career): 28-16
Number of saves (this season): 90
Numbers of saves (career): 426
Save % (this season): .520
Save % (career): .555
Goals allowed per game (this season): 7.90
Goals allowed per game (career): 7.83
(Visited 106 times, 1 visits today)