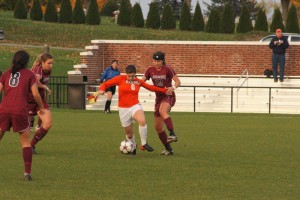 By Eric Weiss
Senior Writer

It was a bittersweet day for the women's soccer team, which defeated Colgate 1-0 and claimed a share of the Patriot League crown but also said goodbye to one of the finest senior classes ever to grace the pitch.
Story continues below advertisement
Christa Matlack '11 put the game in her own hands early, taking a pass from Kelliann Doherty '11 and burying the ball in the upper right portion of the goal at the 11:39 mark. This gave Matlack 32 career goals and 78 career points, placing her at fifth on the Bison's all-time points list.
The Bison then leaned on a defense that has been rigid all season long. The Orange and Blue held Colgate without a goal for the remaining 78 minutes.
Co-captain Amanda Citron '11 and keeper Sandita McDermott '13 anchored the defense as McDermott made seven saves, recording her third shutout of the season. Although the Red Raiders outshot the Bison, the Orange and Blue never let the game slip away.
"Colgate was an extremely physical team, but we knew we had the ability to beat them and never gave in," Julianne Harris '11 said.
The team knew it would not be able to host the Patriot League tournament since Army won its game last Friday. But the exceptional leadership and character that the Bison have shown throughout the season will hopefully carry over into the Patriot League Tournament at West Point.
"We know this season is far from over and we will need to work harder than ever to capture our next goal, a Patriot League title," Citron said.
The Bison open the playoffs with a semifinal match Friday night against third seed Lehigh.
(Visited 65 times, 1 visits today)