Nissley '11 named finalist for 'academic Heisman' award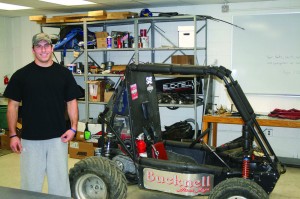 By Cooper Sutton
Sports Editor
Travis Nissley '11, mechanical engineer and middle linebacker, is the second student-athlete in Bison history to be nominated as a finalist for the Campbell Trophy, which is awarded to the most deserving student-athlete in the nation.
Nissley currently carries a 3.96 GPA in one of the University's most academically challenging majors and is a standout on the football field. He is a team captain and fifth on the team for tackles this season.
For his achievement, Nissley received an $18,000 postgraduate scholarship from the National Football Foundation. He will find out whether or not he is the winner of the Campbell Trophy Dec. 7 at the awards dinner in New York City.
The Bucknellian: What, above all else, has allowed you to be one of the 16 finalists for the Campbell Trophy?
Travis Nissley: I think I would have to go with my grades. If you look at the evaluation criteria that they evaluate the award on, it's a combination of your scholastic performance, your athletic ability, your athletic performance and your leadership and maybe a few other things. I really didn't think that I stacked up well enough overall, but I guess my grades brought me through to get to be a finalist.
The Bucknellian: What aspects of this process are you most looking forward to? Anything you are worried about?
TN: I'm not worried, but I'm really looking forward to the trip to New York City. I've never been to New York City, except to play Fordham, and I guess that doesn't really count because you don't get to go anywhere but the hotel and the field. The only other guy to make it to be a finalist from Bucknell, David Berardinelli, he e-mailed me, congratulated me and said that the trip to New York was one of the best experiences of his life. It should be really cool—I get to meet all those people that I would consider to be in a whole different league athletically and football-wise.
The Bucknellian: What does being nominated for this honor mean to you?
TN: It means a lot. I've worked hard over the last couple of years, but I've been blessed intellectually, too. It's a huge honor to represent the school. It's like a football win almost: when you win, you're glad you won for yourself, but the glory goes to the school and to everybody who helped contribute to that win. It speaks to all my professors, my coaches, my parents, my family and friends who have helped me over the years. It's great to be able to represent all those people and all the things that went into it by being named a finalist.
The Bucknellian: How do you find time between playing football and being a mechanical engineer?
TN: I've been very fortunate to be gifted intellectually, so I can do well on tests and that stuff without studying too much. As far as the time management aspect of getting homework and projects done, you just have to be focused. It's tough sometimes when your friends want to do something fun and you have to go get work done. It's more about being able to sacrifice fun stuff for what you want later on down the road.
The Bucknellian: Has football ever affected your ability to perform in the classroom or vice-versa?
TN: Yes and no. It affects it, but at the same time, you can't let it affect it. When we go on the field for football, we have a thought box and we symbolically toss our thoughts into the thought box. It's meant to symbolize that when you go out to the practice field you have to clear your head of everything. So I can have a really long day, be all stressed out because of school, but I can't let it affect me. If you want to be a good player, you can't let the school aspect influence it, and it's the same way for school. Sometimes I'll roll into class feeling ridiculously tired or beat up, and all I want to do is sleep, but if you want to be good in school, you just can't let it affect you.
The Bucknellian: What first inspired you to become an engineer?
TN: Well, I grew up on a farm, so I've always been around machinery and that kind of stuff. My dad was into snowmobiles, so I grew up around snowmobiles, dirt bikes, four-wheelers, that kind of stuff. That's one of my biggest passions, I love that, engines and stuff like that. I didn't really know what real engineering was all about until I got to Bucknell, but it's verified my initial interest in things that engineering is relative to.
The Bucknellian: How have your team and your coaches helped you in your academic pursuits?
TN: They help to keep me focused. The group of guys I live with all try very hard in school and help to keep me focused. It's easier to stay focused when the people around you are focused. Every coach that I have played under here always stresses the importance of academics and an academics-first mindset.
The Bucknellian: What do you value more, your achievements in the classroom or on the field?
TN: I would definitely say on the field. It doesn't come nearly as easily on the field. I've been very fortunate to be gifted intellectually, and I don't think I've been gifted like that athletically. Athletically, I've always had to work very hard to achieve any success that I wanted. When I achieve on the field, it's definitely a greater feeling than in the classroom. That's not to take away anything from the intellectual achievements, though.
The Bucknellian: What do you see yourself doing with the rest of your life? How are both your academic and athletic pursuits at the University going to help you with this?
TN: The time management and being able to sacrifice what you want at the moment for what you want overall is going to be huge in life. There are a lot of things in football: leadership experience and life experience about toughness and discipline that help in the workplace. There is obviously no direct correlation—you don't need to be tough in the workplace—but the concepts transfer. Obviously I've received a great education here. You put all this time into the training of being an engineer here, learning everything, and you get to a point where you just want to get out and do something with it. I don't know exactly where I see myself. I don't want to get a job that drives me like a slave, but I definitely want a job that challenges me intellectually, somewhere that I could be a leader, as well. I want a job that combines both the technical side of things and also leading people, some type of team environment where we are striving towards something.
(Visited 73 times, 1 visits today)