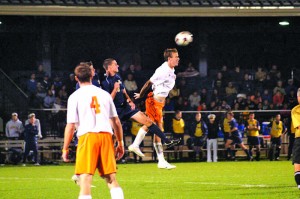 By Joe Ruby
Writer
It came down to the last second, but in Bethlehem, Pa. on Saturday, the Bison Men's soccer team defeated Lehigh to clinch the fourth and final spot in the Patriot League Tournament, earning a chance to defend the league title.
Story continues below advertisement
The Bison (8-8-2, 3-2-2) came from behind to defeat Lehigh (8-7-2, 4-2-1) in overtime 2-1 with a sudden-death goal from Mayowa Alli '14. Navy (7-5-4, 2-2-3) would have qualified with a win over Lafayette (8-7-3, 3-3-1), but the Leopards defeated the Midshipmen 1-0 to clear the Bison's path.
Trailing 1-0 thanks to a penalty kick by James Graf at the 52:49 mark, the Bison began their comeback with less than 15 minutes remaining in regulation. CK Kumah '13 took a pass from Andrew Powell '12 on the left side and buried a shot in the high far corner to even the score 1-1. The goal was Kumah's first of the year and the culmination of a frantic Bison offensive attack that managed 11 shots in the second half.
In overtime, the Bison drove the ball into the offensive zone around the three-minute mark and managed two quick shots, both of which Mountain Hawks keeper Jonathan Nydell saved.
The keeper could not control the second shot, and Alli scored his third–and his most important–goal of the season 3:10 into the period to give the Bison the dramatic victory. At about the same time, the contest between Lafayette and Navy went final, and the Bison were able to celebrate their return to the Patriot League Tournament.
The Bison managed 21 shots to Lehigh's seven, nine of which were on goal as opposed to only four from the Mountain Hawks. Marc Hartmann '12 made two saves for the Bison to earn the win.
The Patriot League Tournament begins at 5 p.m. Friday in Hamilton, N.Y. when top-seed Colgate (8-5-5, 5-0-2) hosts the fourth-seeded Bison. The Bison were one of only two Patriot League teams that did not lose to Colgate, drawing 3-3 at home. The second semifinal match will be played at 8 p.m. on Friday night, also at Colgate, with second-seed Lehigh taking on third-seed American (6-8-3, 3-2-2). The winners will meet at 1 p.m. on Nov. 14 in Hamilton to decide the 2010 Patriot League Champion.
(Visited 47 times, 1 visits today)