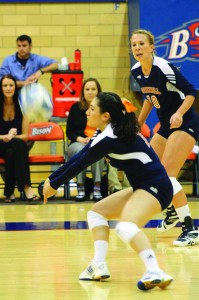 By Mike Wolf
Writer

The volleyball team beat Holy Cross in four sets on its home court on Friday to clinch a berth in the Patriot League Tournament. In the final match of the regular season at home on Saturday, the team lost in three sets to Army.
Story continues below advertisement
Against Holy Cross, the Bison won the sets 25-18, 26-28, 25-12, 25-16, and clinched the fourth seed in the tournament, which will begin Saturday.
Kyleigh McAhren '12 and Kristen Titley '14 each had 14 kills. The Orange and Blue played well as a team and had an overall hitting percentage of .319, their best of the season.
Following a somewhat slow start in the first two sets, the Bison came out in the third set with offensive influence from Heidi Kamp '11 and Ragin Jackson '13. The team tallied 15 kills in the set.
In the fourth set, the Orange and Blue slowly nurtured a growing lead until they went up by seven midway through the set. Holy Cross could no longer make a move and the Bison won comfortably.
Rachel Rodriguez '11 had 37 assists and 12 digs, while Leylin Marroquin '14 added 13 digs. Katie Baumgarten '12 and Emily Sawanobori '12 also added 10 digs apiece in the match.
The team followed Friday night's performance with one of its best-played matches of the season on Saturday. Though they lost 3-0, the Bison truly made it a tough match for a highly skilled Army team.
Both teams in Saturday's match were set in their seeding for the playoffs so the game did not matter for the season. Army won the match 25-20, 25-21, 25-20. Baumgarten led the team with  nine kills and 12 digs and no other hitter had more than six kills.
The team continues the season on Saturday with a match against American University in Washington, D.C.  "Going in as the underdog is exciting because all the pressure's on American," Kamp said. A win in this match would take the Bison to the championship match against either Colgate or Army.
(Visited 74 times, 1 visits today)