Academic East construction update
The University's newest building, Academic East, still on track to open Fall of 2019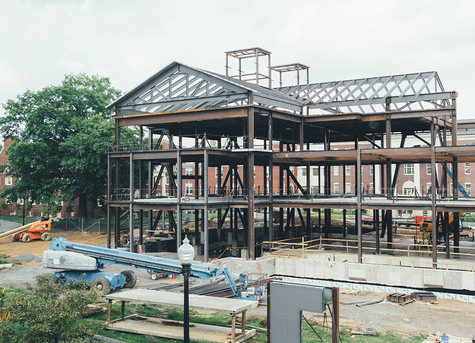 The University announced the Campus Master Plan in 2008, which aims to build two new academic buildings, Academic East and Academic West. The University chose to place the buildings on south campus behind Bertrand Library to add an additional quadrangle to campus. In fall of 2013, a completed Academic West opened its doors and has since become an integral part of the academic campus. Following suit, the construction of Academic East began on April 2, 2018. By the beginning of the 2018-2019 school year, all the footing, foundation, and steel structure were complete.
The University will be holding a "Topping Out" Ceremony on Sept. 17, 2018 to celebrate the assembly of the last steel beam in the building. The exterior construction work will continue until December and the interior work will progress from the New Year until June 2019.
Academic East will house 25 laboratories, 30 offices, and four classrooms for the College of Engineering and the Department of Education. The $37.9 million project is expected to be officially open for use by students, faculty, and staff members by the start of the fall 2019 semester.
Both Academic East and Academic West were designed to achieve the Leadership in Energy and Environmental Design (LEED) Gold Standard for Sustainability. While both buildings achieved this standard through regulated temperature controls, "smart" lighting, and rainfall collection, Academic East will also include solar chimneys, two "green walls" that will be filled with live plants, as well many other environmentally friendly features.
"Academic East will impact the academic life of campus far beyond the walls of the building," Senior Project Manager Justin Salyards said. "Both the Education Department and the College of Engineering will have new space in the building, but the construction of the building also serves as an enabling project for the improvements of other academic spaces on campus."
"It is nice to see my tuition put to good use. I am excited for all the hands-on learning opportunities that will take place within Academic East once it is complete," Brian Dadio '22, a chemical engineering major, said.
"Since Education will be moving from Olin, space will be available for improvements in Olin for the Physics and Mathematics Departments," Salyards said. "Also, as Engineering faculty move some offices and labs into Academic East, improvements will be made in Dana and Breakiron for the faculty remaining in those two buildings. The end result of all the work will be more space for students and faculty from a variety of disciplines."
(Visited 671 times, 1 visits today)