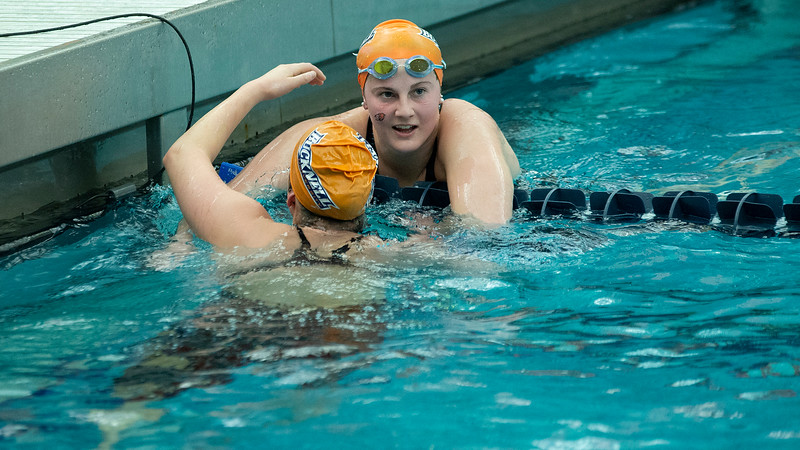 Over the course of the four-day-long Patriot League Swimming & Diving Championships held in Kinney Natatorium, the Bison men's and women's swimming and diving teams broke numerous records as each swam to an overall third place finish. Stand-out Maddie Hartigan '22 won a gold medal in the 1,650 freestyle with a time of 16:44.99, five seconds faster than the second-place finisher. The meet took place from Feb. 20-23.
On the women's side, the Bison collected eight medal-winning performances, finishing the meet with 482 points, their best finish since 2015. On the men's side, the Bison collected six medal-winning performances, finishing the event with 397 points. Navy's men's and women's teams swept the championships once again this year, with Army coming in second on both sides.
Hartigan also earned second place in the 500 freestyle. Joining Hartigan with individual titles were Julie Byrne '19, who placed second in the 200 backstroke and third in the 200 IM, and Maggie Wyngowski '21, who collected second place in the 400 IM. Abby Merriman '20 just missed the podium with a fourth-place finish in the 1,650 freestyle. The Orange and Blue placed 15 individuals in the finals.
"I personally loved seeing everyone's hard work pay off; we all go through six months of tough training and it is so rewarding to watch your teammates, as well as yourself, have a great meet. I also love the competitive and exciting atmosphere that comes with the championship season, and there was a lot of great energy this past weekend," Byrne said. "I'm really grateful to have been part of such an amazing team with such amazing coaches".
On the men's side, Matt McGoey '20, Liam Pitt '22, Jack Rogers '19, and Charlie McFarland '19 joined forces in the final event of the meet to earn the bronze medal in the 400 freestyle relay. The 200 and 400 medley relay teams also earned third place.
Individually, Chadd Cummings '19 collected second place in the 100 breaststroke with a time of 54.12, also setting a school record. McFarland also took second en route to breaking a school record in the 50 freestyle with a time of 20.10.
"I was really happy with both our team and my personal performance. As a team we were ranked sixth going into the meet, so to be able to jump from there to third was a huge accomplishment and really speaks to the number of guys we had step up when we needed them," Cummings said.
On the final day of competition, the Bison men recorded seven top-10 finishes, ultimately leading them to a total of 397 points.
The Bison swim and dive team will next send its respective qualifiers to the ECAC Championships held from March 1-3, in Annapolis, Md.