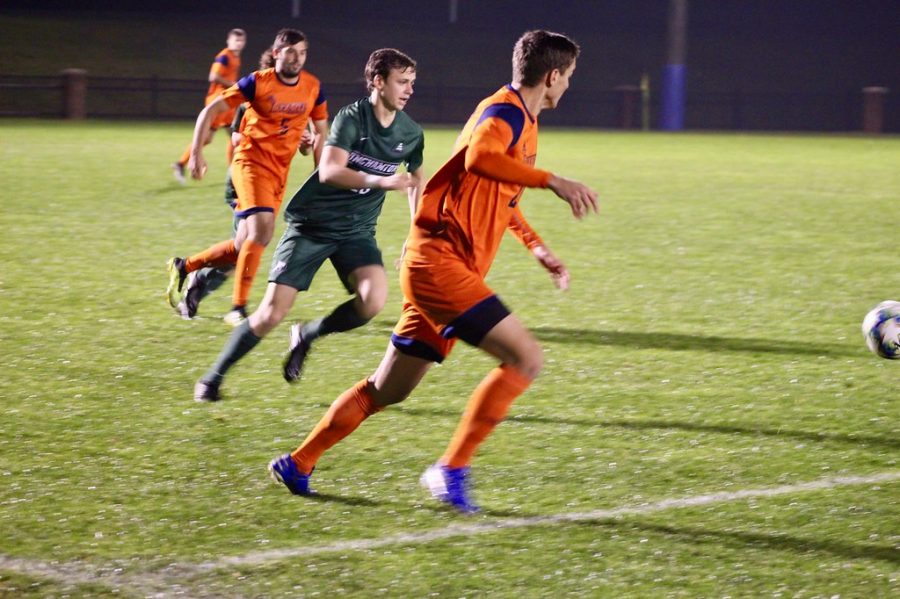 Cecily Ho
On Oct. 20, the Bison played against Boston University at Emmitt Field and earned their third consecutive win (and second consecutive Patriot League win) with a 3-0 scoreline. The Bison were able to take advantage of the rainy conditions when Patrick O'Hara '22 scored to give the Bison a 1-0 goal lead. After halftime, the Bison controlled the game and added two late goals from Kevin Gulizio '21 and Nick King '20, giving the Blue and Orange a 3-0 win. On Oct. 22, the Orange and Blue faced Binghamton and, thanks to a penalty save from Emmett Witmer '20 and a goal from O'Hara, were able to come back from 1-0 down to earn a draw.
The Bison dominated the game against Boston University on their way to a 3-0 win. From the beginning, the Orange and Blue looked aggressive and scored when O'Hara placed home a rebound off a hard shot by Matt Thorsheim '21. The Bison went into halftime with a one-goal lead.
During the second half, Boston University pushed forward as they tried to equalize. The Bison were able to exploit the Terriers on the counter-attack when O'Hara found Gulizio who slotted the ball into the back of the net to double the lead. Twelve minutes later, in the 87th minute, King wrapped up the game with another goal. This was the Bison's third straight win and second consecutive Patriot League win.
"The coaches really focused our practices on types of passes and movements that were going to be successful against Boston, and the buy-in from the team throughout the week and in the game allowed us to be successful. Overall, the increased buy-in has been key [to the winning streak]," King said.
On Oct. 22, the Bison hosted Binghamton and had to battle back from a one-goal deficit. The Orange and Blue found themselves down 1-0 when they conceded a goal in the 21st minute. The Bison did not generate much offense in the first half, but looked like a different team in the second half. The Bison created more chances and looked the more dangerous team to score. In the 85th minute the Orange and Blue conceded a penalty to Binghamton. Witmer saved the penalty kick, inspiring the Bison to keep pushing for the equalizer. They found it when O'Hara was able to get on the end of a corner kick by Thorsheim to tie the game and earn the Bison a draw.
"Despite a setback against Binghamton on Tuesday night in which we played poorly but still managed a tie, we are figuring out ways to get results in the past 4 games, and the mindset we have brought will be key to success in these last few weeks," King said.
The Bison will look to keep the momentum going as they play Army next on Oct. 26 at 4 p.m.