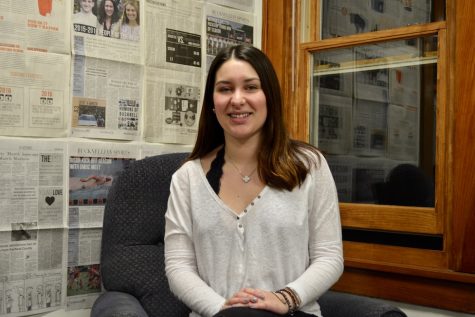 Caroline Sullivan
Psychology '19, Chappaqua, N.Y.
Caroline joined The Bucknellian fall semester freshman year as a sports photographer, where she thoroughly enjoyed the brief and only athletic interactions she had all year. She has gained more responsibilities as photo co-editor and social media manager this semester, and is enjoying her job Instagramming, Facebooking, and editing photos which just so happen to be her only hobbies. She is looking forward to coming out from behind the Smugmug screen (#photoprobs) and getting to know the staff during the highly acclaimed production nights to which she is finally invited.
Aside from working for The Bucknellian, Caroline is involved with several other publications on campus, as well as working in the Writing Center as a tutor.
Caroline Sullivan, Photo Co-Editor and Social Media Manager
Nov 30, 2017

Playing with Puberty: Artist Sidney Mullis at the Downtown Samek Gallery  

(Media)

Nov 30, 2017

Voter turnout for BSG elections nearly doubles

(Media)

Nov 02, 2017

Man's best friend helps in the fight against cancer

(Media)

Oct 26, 2017

'By Way of Bucknell' unveiled

(Media)

Sep 28, 2017

From court to coach: Jay Wright '83 returns to campus

(Media)

Sep 14, 2017

Community remembers 9/11

(Media)

Sep 07, 2017

Lewisburg Prison Project joins with University to imagine "a world beyond prisons"

(Media)

Aug 31, 2017

Kappa Sigma fraternity dissolved

(Media)

Aug 31, 2017

Women's volleyball logs first undefeated start since '99

(Media)

Apr 21, 2017

Mixed reviews on 2017-2018 housing selection process

(Media)

Apr 13, 2017

Showcasing in style

(Media)

Apr 06, 2017

Softball leads Patriot League with undefeated 6-0 start in conference

(Media)

Mar 30, 2017

Softball begins conference play, sweeps Lafayette

(Media)

Mar 09, 2017

Art and art history professor named Fulbright Scholar

(Media)

Mar 02, 2017

Former NSA director talks privacy in a converged world

(Media)

Feb 17, 2017

A 'factual feminist' critiques modern campus activism and feminism

(Media)

Feb 16, 2017

Wrestling extends win streak to nine matches

(Media)

Nov 11, 2016

Joksimovic leads men's water polo in three conference victories

(Media)

Nov 11, 2016

Climo clinches Patriot League title for women's soccer in OT goal

(Media)

Oct 27, 2016

Athlete of the Week: Emily Finn

(Media)

Sep 15, 2016

Field hockey wins overtime victory against Albany

(Media)

Sep 08, 2016

Rodgers continues extensive coaching experience with Bison volleyball

(Media)

Oct 28, 2015

Men's soccer falls to American, shuts out Loyola

(Media)