Baseball struggles against No. 7 South Carolina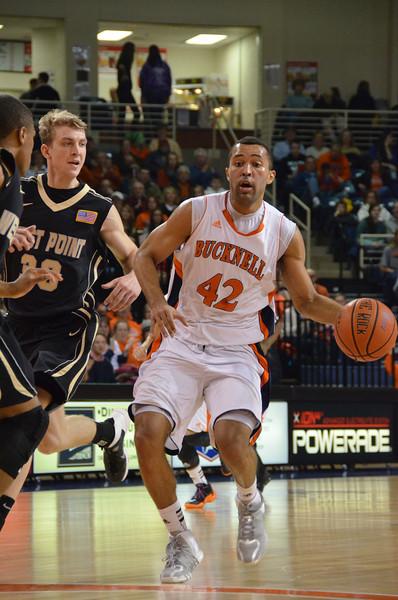 The baseball team opened its season with three straight losses to No. 7 South Carolina in Columbia, S.C. The Bison fell 17-4 and 12-2 in the Feb. 15 doubleheader before being shutout 12-0 by the Gamecocks the next day.
"Even though we did not come away with a win, this series was beneficial as it gave us a chance to compete against a premier college baseball program," pitcher Dan Weigel '14 said. "We expect to have another opportunity to play a team of their caliber in the NCAA tournament and this series was essential in preparing us for that."
In the first game of the season, Bryson Hough '15 was the starting pitcher for the Orange and Blue, striking out a batter and walking four others. Four relief pitchers saw action, including Tom Hrabchak '14, who struck out four.
The Bison scored their four runs in the final two innings, as Anthony Gingerelli '15 blasted a solo home run against the Gamecocks.
"A lot of different guys got their chance to show what they are capable of doing in a game's atmosphere," Gingerelli said. "It was great for our team to get outside in beautiful South Carolina weather after the weather has trapped us indoors for almost the entirety of the season."
Corey Furman's '14 home run and Jon Mayer's '16 RBI double in the third inning summed up the scoring for the Bison in the nightcap. Weigel pitched four innings and struck out three. South Carolina posted a combined six runs in the seventh and eighth innings to conclude the day.
The Bison were held to one hit by Sam Clark '17 in the third game of the series. South Carolina struck out the Bison 10 times while hitting three home runs and producing five extra-base hits. Andrew Andreychik '16 and Xavier Hammond '15 each pitched four innings, striking out three batters and giving up 10 earned runs.
"Although the weekend ended with three losses the positives coming out of this weekend show a lot of promise for our team, from returning guys, to first-years, pitchers to position players. This weekend showed many things that this team has to continue to work on and many ways that the team needs to grow. It also showed that we have the depth, talent, and teamwork to win a lot of games this season," Gingerelli said.
The Orange and Blue hope to bounce back against Iona and Delaware State this weekend, starting tomorrow. They will battle each team twice in Dover, Del.
"I think the young guys played particularly well and I was impressed with how they handled themselves in their first experience playing college baseball. Playing South Carolina helped us find out what our weaknesses are and will allow us to work on them accordingly until we're a more complete team," Hough said. "I was pleased with how we hit and am confident that the pitching will make improvements and adjust based on how we did last weekend."
(Visited 64 times, 1 visits today)