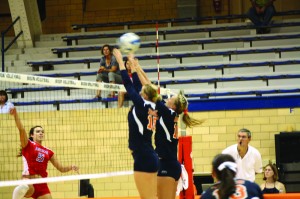 By Cooper Sutton
Sports Editor
After a tough schedule to begin the year, the women's volleyball team began Patriot League play with two home games last weekend. The women lost a match on Friday against American University 3-1 but won 3-2 on Saturday against Navy.
Story continues below advertisement
The Bison came into their match against American having already faced solid competition outside of the Patriot League. The team only posted a record of 2-10, but it grew more unified and competitive as a result.
This competitiveness was apparent as soon as the Orange and Blue took the court in their first league action of 2010. Facing a very tough American University team (12-2), the Bison came out firing on all cylinders.
The energy was apparent as the team jumped out to an early lead in the first set and had the set firmly in the grasp with a score of 23-19. But the Eagles showed their winning mentality, taking the next six points consecutively to win the set.
"We came out strong against a very tough American squad on Friday night.  Not only did we have a great game plan, but our overall execution was solid.  If we did a better job of closing out the first set, I thought we could have taken the match," head coach Cindy Opalski said.
Heidi Kamp '11 and Ragin Jackson '13 both posted hitting percentages of over .300. As a team, the Bison did not hit well, averaging .113; American's average was .211.
The team fared much better in the second match. The Navy Midshipmen took the Orange and Blue down to the wire, but the Bison finished the fifth and final set ahead 17-15.
The Bison narrowly out-hit their opponent .178 to .167. The team owes much of its success to Kamp, who had an impressive 21 kills and a hitting percentage of .459. The highest Midshipmen hitting percentage was .286.
Kamp was very happy with the team's performance. "Saturday's match found our Bucknell team in the most fluid cohesion I have yet to feel this season, and the victory certainly left an incredibly sweet taste in our mouths for the remainder of the weekend," she said.
This week the Bison will return to the road to face Lafayette and Lehigh.
(Visited 38 times, 1 visits today)