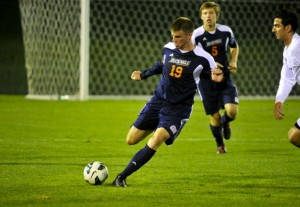 Alex Wagner
Sports Editor
Player Profile
Story continues below advertisement
Collin Costello '13
Bethlehem, Pa.
Electrical Engineering
Season statistics:
17 starts in 17 games, 1611 minutes played
2 goals
2 assists
Collin Costello '13 played a critical role last week as the men's soccer team turned their season around with two 1-0 victories. The co-captain played every minute of both games, leading the defense that earned the team two shutouts by only allowing NJIT and Colgate a combined 14 shots. His efforts earned him the Brine Patriot League Defensive Player of the Week award.
"Over the past week, our team has been able to record two shutouts because we have defended as a team and not as a group of individuals. This has started with our forwards, and has finished with our goalkeeper," Costello said. "When we can begin our defensive pressure in the opponents' defensive third, it makes the other team uncomfortable and more susceptible to make simple mistakes. We have been able to capitalize on these mistakes the past two games."
Costello did not receive much playing time in his first three years for the Orange and the Blue, but his patience has paid off as he now leads the team in minutes played and has started every game this season. He has even seen some time on the offensive side of the field, as he has two goals and two assists on the year. Despite his personal success, Costello remains focused on what the team as a whole needs to accomplish.
"Our goal is simple: beat Lafayette and clinch a bid into the Patriot League Tournament," Costello said. "Once you get into the tournament, all bets are off and each team's regular season record doesn't matter. At that point, each game will be a battle of which team can defend well and finish their chances. We hope a win this weekend will give us the momentum needed to win this year's Patriot League Championship."
(Visited 67 times, 1 visits today)