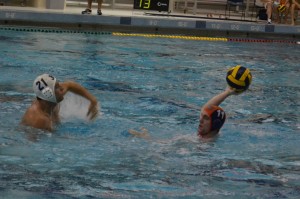 Alex Wagner
Sports Editor
Player Profile
Brian Barron '13 
Story continues below advertisement
Oak Park, Ill.
Economics
 Season Stats:
28 starts in 28 games
52 goals on 118 shots
34 assists
31 steals
12 blocks
Brian Barron '13 was one of the main reasons the men's water polo team captured their first ever Southern Championships over the past weekend. The four-year starting attacker's 13 goals, 11 assists and four steals are just a couple of the key statistics that helped the Orange and Blue go 4-0 over the course of three days.
"The key to my individual success was just to follow our game plan," Barron said. "The whole season we've been practicing to take our time on offense and the openings will come. When we were playing well, that's exactly what we did. My individual success came mostly from my teammates being able to draw the defense away from me and then finding me open."
Barron also has a knack for making big plays when they count the most. In the opening game of the tournament against George Washington, he scored the game-winning goal with just over a minute left in the second sudden-victory period of overtime. In addition, he had three goals and five assists in the Bison's 13-12 victory. Barron also came up big in the game against No. 14  Navy, compiling six goals and three assists to equal his career high for points in a game.
The senior now has 146 career goals and 232 career points, which are the highest totals for the team.
After winning the Southern Championships, Barron and the Orange and Blue will head to the Eastern Championship, beginning on Nov. 16.
"We know that it was a huge accomplishment to win a Southern Championship and we are proud of that, but we are not satisfied," Barron said. "Our main goal all along is to win an Eastern Championship and a berth in the NCAA Final Four, and that's all we will focus on moving forward. Southern's gave us the confidence we needed to know we can win Eastern's. But we know other teams still think they can beat us, so we have to improve and go prove them wrong again."
(Visited 65 times, 1 visits today)