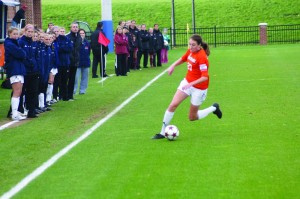 By Eric Weiss
Senior Writer
The women's soccer team's season came to an abrupt end at West Point, N.Y. last Friday when the team suffered a tough 1-0 loss in a Patriot League semifinal matchup against Lehigh.
Story continues below advertisement
Both teams relied heavily on their back lines to anchor their game plans. Throughout the first half both the Bison and the Mountain Hawks had opportunities but neither team could bury the ball in the back of the net. At one point it appeared Lehigh would take a 1-0 lead, but an offside flag negated a prospective goal.
In the second half the Bison mounted assaults on Lehigh continually and almost scored when the Mountain Hawk keeper appeared to fall back into her own goal after catching the ball. This attempt was waved off when a Bison player was called for a push.
"This game was going to be tight throughout. We knew we had to keep the pressure up in order to try and gain the upper hand," Jules Harris '11 said.
But a Lehigh attacker ripped a shot from the top of the 18 in the 60th minute for the one and only score.
The Bison out-shot Lehigh 13-5 in the second half, but the Lehigh goalie was able to deter all shots by the Bison, and the Orange and Blue swallowed the loss.
As the Bison heard the final whistle blow, seven seniors said their goodbyes to four years that may have been some of the best in Bison soccer history. Amanda Citron, Kelliann Doherty, Harris, Caitlin Holtz, Kelsey Johnson, Christa Matlack and Brooke Stokes completed their time at the University with 39 wins. They finished the regular season twice in first place and twice in second place.
"It was a pleasure to play with each and every one of my teammates; we will always cherish our time playing together," Citron said.
(Visited 64 times, 1 visits today)