Women's basketball stopped by Army, rebounds against Loyola (Md.)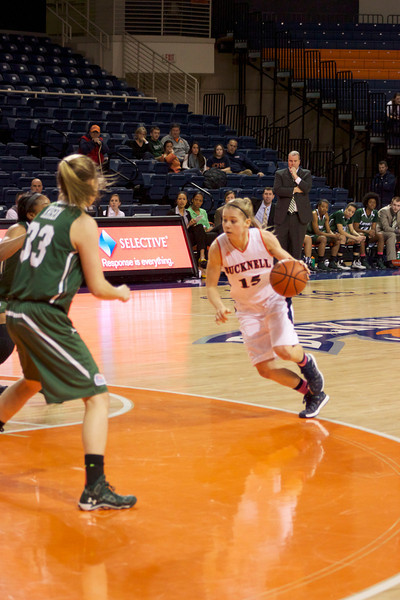 The Orange and Blue fell short 75-63 in a back-and-forth game at Christl Arena against Army on Feb. 15. They got back in the win column by trampling Loyola 70-49 at home on Feb. 19.
"I think that our main focus these next few weeks is definitely our defense. We need to be able to get stops on the defensive end to win games," Claire DeBoer '17 said.
A low scoring first half for both sides in the game against Army saw the game tied at 17 at the 10-minute mark of the first half, but Army went on a 9-0 run to take hold of the lead. The Bison trailed 36-29 at halftime and they were only able to make one three-pointer through the first 20 minutes.
The Orange and Blue were much more successful out of the gates in the second half, climbing back into the game. Although Army increased their lead to as much as 16 points, Shelby Romine '14 and Audrey Dotson '15 helped trim that lead. Dotson recorded her ninth game of 20+ points on 7-12 shooting while grabbing a team-high six rebounds, and Romine added 11 points and a team-high five assists.
Claire Maree O'Bryan '16 sparked a 12-0 run that brought the Bison back within two at 54-52. Still, the Black Knights finished strong and prevented the Bison from achieving the road victory. O'Bryan finished with 10 points while Megan McGurk '17 added 12 on the day. Both teams were very evenly matched in most categories, but the Orange and Blue were out-rebounded 35-26.
"Army is a very seasoned team and was quick to capitalize on the few errors we made defensively," McGurk said. "However, we will all learn from the defensive mistakes and clean them up for the next game."
Looking to end their two-game losing streak, the Orange and Blue stayed at home to take on Loyola, hoping to take advantage of an 8-2 record at Sojka Pavilion coming into the night. With the 21-point victory, they extended that home win total to nine. Romine led all-Bison with 21 points on 8-13 shooting and five rebounds, while Dotson added 14 points and a team-high five assists.
The Bison controlled the game from the tip, rushing out to a 25-6 lead. Loyola cut the deficit to 11 but the Bison still led 32-21 at halftime. They didn't let up at all in the second half, scoring 38 points in the final 20 minutes while limiting Loyola to 28.
The Orange and Blue shot 49 percent for the game while keeping Loyola at 33.3 percent. They also dominated the inside while scoring 42 points in the paint to Loyola's 21.
McGurk earned her second Patriot League Rookie of the Week selection for her play against Navy and Army. McGurk and DeBoer have combined for nine of the 14 Patriot League Rookie of the Week honors this season. The Bison (14-11, 9-6 PL) will stay at home to take on Boston University at noon tomorrow.
"We will look to get back into our flow on offense and capitalize on transition baskets. I think that the team's sense of urgency will be at an all-time high knowing that home court advantage is on the line," McGurk said.
(Visited 85 times, 1 visits today)