Scanning the Court: Previewing the men's and women's 2014-2015 basketball teams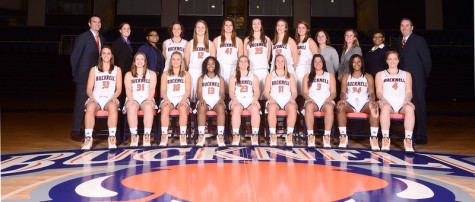 Although it did not claim the Patriot League title, the women's basketball team earned a spot in the Women's Basketball Invitational last year after a 16-14 season, including 11 wins in the conference. Four starters return for another season, while four new Bison enter the program.
This year, the squad was picked to finish third in the conference, as it picked up two first-place votes in the preseason poll. Ahead of the Bison are American and reigning champion Army. Still, the focus for the Bison right now is on the court rather than the other teams.
"A major focus for our team this year is toughness, both physically and mentally. We have an outstanding group of girls that bring an awesome skill set and a very compassionate coaching staff to coach us, but it's the heart and desire to win that needs to be our focus," Tyler Craig '16 said.
Craig, Megan McGurk '17, and Claire Maree O'Bryan '16 will all share the ball at guard this season. With Shelby Romine '14 graduating after one of the best seasons in program history for a Bison, each of these three guards have the chance to control the game on the offensive end and replace the 15 points per game that Romine brought to the table.
"Losing Shelby not only as a player but as a leader on and off the court has been a huge change for all the returners. However, with all of us knowing the big shoes that needed to be filled, our team as a whole has stepped up. Everyone has been putting in the extra work to make sure we are ready to compete this season," Craig said.
A pair of Patriot League honorees will be controlling the game down low in Audrey Dotson '15 and Claire DeBoer '17. Dotson will be the clear leader for the Orange and Blue, and was voted to the Preseason All-Patriot League Team. As for the reigning Patriot League Rookie of the Year, DeBoer will be looking to improve upon her 9.8 points and 6.7 rebounds per game as she makes the transition to her second season. These two forwards will need to continue their consistent play from a year ago in order to make a run in the Patriot League Tournament.
Still, head coach Aaron Roussell is looking at this season one game at a time, and knows the team must stay committed and focused throughout the entire season to be successful in his third season.
"To win the next game, our focus has to be on being a better defensive team than what we were last year," Roussell said. "We were way too inconsistent on the defensive end last year, and it hurt us multiple times; whoever wins this league will have to be a very good defensive team. Hopefully we will be in that category."
There will be a strong mix of veteran experience and depth that are necessities. Seniors Katherine Harris, Micki Impellizeri, and Tara Wilk appeared in a combined 62 games last season. Sheaira Jones '16 and Sune Swart '17, who appeared in 28 and 26 games respectively, will have much more prominent roles as well this season.
"This is going to be a much more balanced team, and it is conceivable to have six to seven different players lead us in scoring in each game. If we play well together and share the ball, our offense should be the best it's been since I've been here," Roussell said.
The Orange and Blue open up their season Nov. 14 on the road at Bowling Green at 6 p.m. After a four-game road trip, the Bison open up at home on Nov. 29 against Cornell at 2 p.m.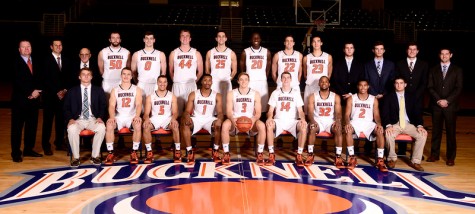 After winning the Patriot League regular-season title for three consecutive seasons and securing a spot in the NCAA Tournament in two of those seasons, the men's basketball team failed to make it past the first round of the Patriot League Tournament after a 72-71 victory by Army knocked out the Bison in Sojka Pavilion.
There is plenty of reason to believe that this year's team can return to top form once again.
"For our team to compete for a league championship, we need to embrace the process of getting better every day, realizing it is a long season filled with inevitable ups and downs. Teams that win championships tend to be the most cohesive and resilient," head coach Dave Paulsen said.
Captains Steven Kaspar '15, Cory Starkey '15, and Ryan Frazier '16 will look to carry the team after four players graduated from last season's team. Kaspar appeared in all 30 games last year at point guard, and his 4.6 assists per game ranked third in the Patriot League. Starkey averaged 13 minutes per game down the stretch, and his .618 field goal percentage led the team. Frazier, a defensive specialist, will look to maintain a starting role this season.
Still, it will be a tall task replacing standout guard and Patriot League Player of the Year Cameron Ayers '14.
"We will certainly miss last year's seniors, but I have been very pleased with the leadership and work ethic of this year's seniors. Steven, Cory, and Joshea [Singleton '15] have really helped to create an excellent environment of hard work, unselfishness, and competiveness. I have also been pleased with the growth of Ryan, Dom Hoffman '16, and Chris Hass '16 into more prominent roles," Paulsen said.
On the inside, several players will need to step up in order to replace 6-foot-8 graduate student Brian Fitzpatrick. Starkey, Hoffman, D.J. MacLeay '17, and Ben Oberfeld '17 will all play vital roles at forward as Patriot League play rolls around.
"We hope to replace Fitzy with a committee approach. We cannot replace the skill Fitzy had on the low block, but this year we are bigger and stronger on the frontline," MacLeay said.
Paulsen certainly has the experience when it comes to coaching a team into the NCAA Tournament, and his expertise will come in handy late in the season. He will also be helping mentor a strong incoming class, as guards Stephen Brown '18 and J.C. Show '18, forward Zach Thomas '18, and center Nana Foulland '18 all have time to make a name for themselves.
With all of these things in flux, Hass may be the go-to guy the Bison need with Ayers gone. Hass was clutch down the stretch with big time shots and big time consistency when he was called upon. An All-Patriot League honoree a year ago, Hass averaged 11.1 points per game and a .402 three-point percentage in 23 starts. He may help lead this team back to a Patriot League championship.
"We need to go back to who we were when we were winning championships a few years ago. Our team has to be tougher and more defensive minded in order for us to make a run in March," MacLeay said.
The Bison open up the 2014-15 season with a home game on Nov. 14 at 7 p.m. against Marist and will go on the road afterward for a pair of matchups against top-25 teams (Michigan and Villanova).
(Visited 263 times, 1 visits today)