Athlete of the Week: Manuela Herrera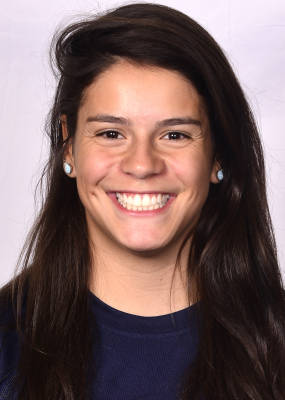 The women's water polo team has enjoyed a successful 4-0 run in their recent matches, and no one watching the pool can deny the impact that Manuela Herrera '18 has had for the Orange and Blue. Herrera — who notched an incredible 20 saves in just two games on Feb. 10 — holds the team-high saves on the season with 53 in total. While her individual contributions are sure to impress, it is her team spirit that stands out when speaking with Herrera after the Bison's most recent victories.
"It's really empowering being able to have trust and confidence in my teammates to have my back and to be able to do the same for them," Herrera said about her experience with the Bison. She notes the success that the team has found together; her favorite part of the season has been the team's 4-0 record in their home pool.
Her performances have made a resounding statement early in her senior season, and it is clear that Herrera's contributions have been crucial over the course of her four-year campaign for the Orange and Blue. Going into the 2018 season, Herrera has racked up impressive statistics in 65 games played with 49 starts. While her 382 saves going into the season have proven her goaltending abilities, other statistics such as her 12 steals, 5 assists, and 5 points show that Herrera is a balanced player who can make contributions offensively, as well.
As their season continues, Herrera reflects fondly on her time with the Bison. 
"My favorite part of my career has been having successful seasons in the past years where we've beaten strong teams, and hopefully our team can add to that list of wins this season," Herrera said.
Looking forward, she is confident that the team still has big things in store. "I'm looking forward to playing a lot of challenging teams this year we haven't had the opportunity to play in the past and being able to prove that this is one of the University's strongest women's water polo teams this season," Herrera said.
The Bison will travel to the Princeton Invitational Feb 17. where they will face some new competition and seek to gain some of those big wins Herrera anticipates.
CAREER STATS:
436 saves
72 games played, 56 games started
15 steals, 8 assists
(Visited 119 times, 1 visits today)