Men's and women's track teams take home first place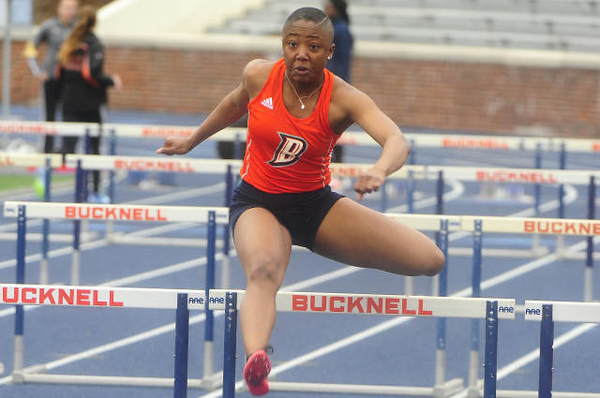 The Bison track and field team hosted the Bucknell Team Challenge on April 21 at Christy Mathewson-Memorial Stadium. The men's team finished in first place with a total of 204 points, while the women's team also secured the top position with 212 points.
On the men's side, Reggie Harris '19 took first in the triple jump with a jump of 47-5 1/4 feet, while Steven Walier '20 placed fourth. In the long jump, Micah Sims '20 placed fourth with a jump of 21-11 and Brendan Bodisch '21 placed fifth with a jump of 21-5 1/4.
In the 3000-meter steeplechase, Connor McMenamin '21 and Terryl Ferrell '20 placed in the top two. McMenamin took first with a time of 9:19.21, while Ferrell took second with a time of 9:25.53. Drew Dorflinger '20 won the 1500-meter race with a time of 3:53.83. Brendan McGill '20 finished in second with a time of 3:56.88, Will Bordash '18 finished in third with a time of 3:57.98, while James Weissenborn '20 rounded out the top ten finishers for the Bison in sixth place with 4:00.63.
The Bison's 4×100 relay team of Steve Rizio '20, Jeffrey Brown '20, Alex Dessoye '21, and Billy Melchionni '19 finished with a strong second place finish. Brown also finished third in the 100-meter dash with 11.04, and Melchionni placed second in the 200-meter dash with 21.69.
Throwing performances in the javelin included Aidan Krombolz '21 with 192-5, Terry Hall '19 with 182-3, and James Kelly '21 with 176-6 placing second, third, and fourth, respectively. In shot put, Hayden Lindsey '20 with a throw of 48-1 3/4 placed third and Zach Ruiz '20 placed fourth with 48-1  1/4. Lindsey also placed eighth in the discuss with 130-5, behind William Briggs '20 who had a score of 150-9 with a second place finish and Ninh Lam '20 with a fifth place finish at 138-11.
The women's track and field team also dominated in individual performances to take the team title. Tia Tardy '21 had strong performances, taking first with an in-season best record in the 800-meter run with a time of 2:10.84 and placing second in the 4×400 relay race along with Natalie Waterhouse '19, Carli Lucke '18, and Jennifer Dietrich '21 with a time of 3:53.36.
Meanwhile, in the 3,000-meter steeplechase, Payton Capes-Davis '21 placed first with 10:56.65, an in-season best time. In the 100-meter hurdles, Kafilat Oladiran '18 finished in first with 14.69, while Janiel Slowly '19 came in fifth with 16.33 and Harper Stewart '19 placed ninth with a time of 17.93 to round out the Bison finishers.
In javelin, throwers Kasey Getkin '19 (139-11), Taylor Oxley '21 (125-7), and Hanna Beer '20 (125-5) finished in first, second, and third, respectively, for the Orange and Blue. Meanwhile, Lauren Hudson '18 set a personal record in high jump, clearing 5-6 to place third. Katie Salisbury '20 finished first in the triple jump with 37-6 3/4 feet.
Up next for the track and field team is the Penn Relays on April 26-28, which a portion of the team will attend. Another portion will travel to Bloomsburg on April 28. These are the final competitions for the Orange and the Blue prior to the Patriot League Outdoor Championships.
*quotes may be coming
(Visited 202 times, 1 visits today)