E-Week: Celebrating engineering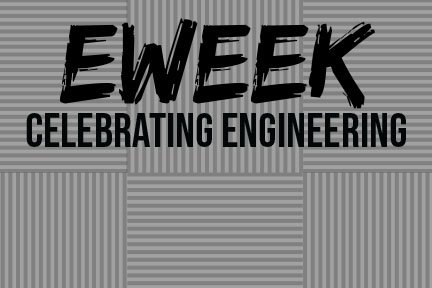 "E-What?"
National Engineers Week — popularly known as "E-Week" — is a week dedicated to celebrating the milestones and achievements of the engineering industry. Across the country, engineering and educational societies, as well as colleges and universities, have been celebrating E-Week since its 1951 inauguration at the University of Missouri's College of Engineering.
According to the National Society of Professional Engineers (NSPE) website, E-Week aims to increase the awareness of and interest in engineering and technology careers in the hopes of developing a diverse and intelligent workforce for the future. With the help of its coalition — composed of more than 70 engineering, education and cultural societies, and more than 50 corporations and government firms — E-Week is able to recognize major engineering contributions to society.
The College of Engineering
At the University, E-Week is intended to not only celebrate the engineering industry, but also students and faculty in the eight engineering departments within the University's College of Engineering.
Featuring disciplines in biomedical, chemical, civil & environmental, computer & electrical, computer science,  and mechanical engineering, the College of Engineering is nationally ranked. According to the U.S. News & World Report Rankings (among mostly undergraduate institutions), the University's College of Engineering is ranked sixth overall — first in biomedical engineering, second in civil & environmental engineering, and third in both computer science & engineering and computer & electrical engineering.
Recognizing that rapid technological change is the way to the future, the disciplines in the College of Engineering incorporate authentic industry projects with current corporate, government and nonprofit partners. 
At a prestigious University, then, it makes sense for all of the esteemed programs and colleges to participate in celebrations of their academic departments and contributions to the future, including through the example of E-Week.
E-Week Activities and Events
This year's theme for E-Week is "Pioneers of Progress." Defining a "pioneer" as someone who utilizes their "knowledge, creativity, and sense of adventure to cross frontiers," NSPE created this theme to raise awareness of the discoveries engineers have made across the world — in space, the ocean and in other areas of communication and technology. In reaching out to students and various communities through E-Week events, NSPE wishes to inspire new pioneers in the field of engineering.
How does E-Week work at the University?
"E-Week is a week of friendly competition between engineering majors, geared towards building community, celebrating the contributions and innovations that engineers have made, and most of all, to have fun," environmental engineering major Andrew Pogue '21 said. "It involves several events throughout the week in which engineering disciplines pit teams against each other to get points — which go to a final score. At the end of the week, the winners are announced and given trophies."
Specifically, some of these events during the week include banner design competitions, minute-to-win-it challenges, a video creation contest and fundraising goals. In addition to the sense of unity and fun E-Week brings to students, the other exciting aspect is the final ceremony, which decides which discipline in the College of Engineering is the "best major."
Although E-Week occurs primarily outside of the classroom and requires that students complete projects on their own, professors do participate in the week's events. 
"People meet the weekend before to work on a themed banner, create a short movie, and make teams for trivia night, minute-to-win-it challenges and a scavenger hunt," Catherine Sweeney '22 said. Sweeney is a mechanical engineering major at the University. "These events are held in the afternoon, but the banner and video take a lot of time and effort from students outside the classroom."
"My favorite memory is helping with the E-Week video in the Spring of 2019. As a transfer student that semester, I was struggling to adapt to college life and make friends within my major," chemical engineering major Judah Pare '21 said. "Helping make the video, mostly done by the seniors that year, they graciously welcomed me into their community and our major. Shout out to the Chem-E class of '19!"
"The goal is to bring awareness of the contributions engineers make to society, which reminds students that the hard work that they put in to classes is all worth it. It is helpful to know that your major will give you the chance to make big impacts in others' lives and E-Week gets you excited about that," Pogue said.
In addition to these goals, the University's E-Week speaks to the spirit of the University's liberal arts education. As most University students are aware, undergraduates are required to complete the Core Curriculum prior to graduation, consisting of fulfillments like a lab science, an Arts and Humanities Learning Goal and an Integrated Perspectives course, among others. In addition to being requirements, these Core Curriculum courses provide students with opportunities to explore their interests and dabble in fields outside of their majors.
Similarly, the week exposes student engineers to other artistic and creative fields in the humanities programs through its projects.
"Another goal is to bring the majors together," Pogue said. "You are going to have to work with others in your major often in your time at Bucknell and beyond and E-Week gives a chance for students to practice that. I think students like the friendly competition — everyone wants the chance to prove that their major is the best. There are also a lot of students that like the creative aspect of the week — painting banners and making a short film. These are activities that are rarely assigned in engineering classes."
Sweeney agreed on the importance of E-Week's ability to integrate students within the College of Engineering. "I think that [E-Week] encourages people to engage more because of all the amazing activities they put on and creates a more fun relationship with the college since typically it is all work," she said. "It's nice to get a little bit of play. I absolutely love E-Week and the opportunity it provides to hang out with everyone in a non-academic setting."
(Visited 788 times, 1 visits today)