Remembering Toni Morrison: A literary force of nature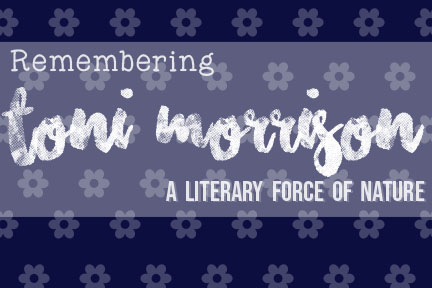 "Language alone protects us from the scariness of things with no names. Language alone is meditation." – Toni Morrison, from her 1993 Nobel Peace Prize Lecture
On Feb. 18, the University celebrated what would have been Toni Morrison's 89th birthday in its continuation of the Morrison Meditation series, which celebrates Morrison's life and literature. In "The Muse and Morrison" event, admirers of the acclaimed novelist read aloud their favorite passages from her works.
As Black History Month comes to a close, the celebrations of Morrison serve as a reminder of the author's contributions to the literary and African American communities that will forever be remembered.
Who was Toni Morrison?
Morrison can be described as a "beloved" figure in the literary world for her unmatched use of language and prose — an apt word, considering her Pulitzer Prize-winning novel of the same name.
Speaking to her creative success, Morrison's achievements are unmatched, to say the least. Morrison penned 11 novels, along with numerous children's books and essays. Prior to winning the Pulitzer Prize for "Beloved," Morrison received the National Book Critics Circle Award in 1977 for her novel "Songs of Solomon." In 1993, Morrison became the first African American woman to receive the Nobel Peace Prize in Literature. In 2012, President Barack Obama honored Morrison with the Presidential Medal of Freedom.
Morrison's Connections to the University
While Morrison is known throughout the world for her literary achievements, she also has a special connection to the University due to her 2002 visit to campus, during which she was named the University's first Janet Weis Fellow in Contemporary Letters. According to the University's website, "The Janet Weis Fellow in Contemporary Letters honors and recognizes individuals who represent the highest level of achievement in the craft of writing within the realms of fiction, non-fiction or biography."
In 2008, the Toni Morrison Society, dedicated to studying the life and work of the novelist, partnered with the University for two years as part of its study of Lewisburg, Pa. According to the Society's website, "Lewisburg, Pennsylvania is located not far from the fictional Lincoln's Heaven in Morrison's novel 'Song of Solomon.'"
Morrison's connection to Lewisburg and the University was further developed at the time through the late professor Carmen Gillespie's extensive writings about Morrison. In addition to publishing her own fiction and poetry works – including "The Blue Black Wet of Wood and Jonestown: A Vexation," among others – Gillespie authored several scholarly works relating to Toni Morrison, including "A Critical Companion to Toni Morrison" and "Toni Morrison: Forty Years in the Clearing."
The Novelist's Legacy
As her birthday was Feb. 18, the University is encouraged to remember the renowned author, her work and her visit to campus.
Professor of English Robert Rosenberg reflected on Morrison's legacy as a writer.  "Like the greatest giants of literature, Morrison feels inimitable," Rosenberg said. "Her writing doesn't break down into simplistic craft lessons we might admire in a fiction workshop.  It's too bold, too deep, too beautifully lyrical and prophetic. Like many writers, I admire her masterpiece 'Beloved' above all of her books. But I remember best of all my shock and delight reading the famous opening section of 'The Bluest Eye:' the playful jazzy repetitions of the Dick and Jane story, which get distorted and crammed together."
"It demolished so much about the American Dream and called into question my own middle-class American upbringing and the perspectives of the books I'd been taught since I was a child," Rosenberg said. "Seeing a writer play with language and ideas to such devastating effect was one of those formative moments that made me want to be a writer myself."
Silja Hilton '21 is one of the many students who admire Morrison's work. "Toni Morrison made a huge impact on my life when I first read her Nobel Peace Prize Lecture a few years ago. When the old, blind, wise woman asks, 'Is the bird I am holding living or dead?' I felt an immediate responsibility for the language that I create, read and speak as an English – Literary studies major."
Of the influence Morrison's work had on her, Hilton said, "She taught me the power of words and that they make an everlasting impact. As a student and a woman advocating for social justice, language plays a crucial part, and I owe it to Toni Morrison for teaching me that. It is my responsibility to keep it (language, justice, equality, etc.) alive as a writer and, hopefully, one day, as an English professor. When it dies, I am held responsible. Linguistic terrorism is an act of violence, and as such, I strive to be its antonym in all I do and am. It isn't always perfect, but Toni Morrison's speech inspires me every day to keep language real, honest, and just to the best of my ability."
Although the well-known author passed away in August of last year, everyone should recognize the legacy she developed through her writing and should continue reading her works, which teach us how to be more truthful, sympathetic and understanding individuals.
(Visited 353 times, 1 visits today)