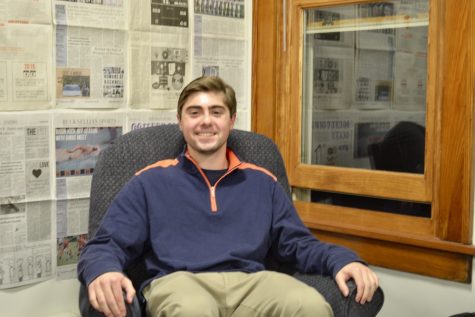 Computer Science and English '19
Huntington, NY
Eager to expand on the experience he gained as editor-in-chief of his high school newspaper, Charles joined The Bucknellian news team last year as a freshman. Not only did he enjoy the challenge of a more rigorous publication schedule, he also appreciated getting to know the hard-working staff and their commitment to excellence.
After spending the fall semester learning about the position under Elizabeth's guidance, Charles is taking over as the news editor in the spring. He hopes that he can continue to learn and grow in his new role and will work hard to meet the expectations Elizabeth mastered in the fall. The power is already getting to his head.
While he should have been searching for internships, Charles spent the summer relaxing with his family in the mountains of Vermont, fighting procrastination on writing a novel, and winning the coveted Counselor of the Year award at his summer camp.
Charles Beers, News Editor
Nov 16, 2017

University Thanksgiving Day parade slated for this holiday season

(Story)

Nov 16, 2017

This year's satire in 280-character tweets

(Story)

Nov 09, 2017

A night with the presidents turns into fierce rap battle

(Story)

Nov 09, 2017

Who are the Amigos?

(Story)

Nov 02, 2017

'The Bucknellian' sitcom coming to NBC

(Story)

Oct 19, 2017

Fraternities sign initiative to turn downtown houses into eco-friendly saunas

(Story)

Oct 19, 2017

President Trump reveals prototype wall built solely out of Legos

(Story)

Oct 05, 2017

Introducing Bucknellopoly

(Story)

Sep 21, 2017

Ben & Jerry's announces new University-themed ice cream flavor

(Story)

Sep 14, 2017

University releases plans to sell personalized iPhone Xs, effective 2018

(Story)

Sep 14, 2017

Intense Friday night study session shut down by PSAFE

(Story)

Sep 14, 2017

First-year still thinks he's on a college sitcom

(Story)

Sep 07, 2017

Students gain superpowers after viewing eclipse through kaleidoscope glasses

(Story)

Sep 07, 2017

Professor leaves class for five minutes, returns to find Smirnoff Ice in chair

(Story)

Aug 31, 2017

University unveils plans for Academic North by Northwest in downtown Lewisburg

(Story)

Aug 31, 2017

Interview against humanity

(Story)

Apr 13, 2017

'News organizations' abandon journalistic integrity, promote personality quizzes

(Story)

Apr 13, 2017

Griot Institute sponsors Caribbean outreach program to foster empathy, community

(Story)

Apr 06, 2017

Members of President's Sustainability Council discuss plans, respond to criticism

(Story)

Mar 30, 2017

House Party Weekend: Four years later

(Story)

Mar 30, 2017

Joint poetry and fiction reading by English professors highlights creative talents

(Story)

Mar 09, 2017

Lights, camera, fire: Arts Residential College bus trip sidelined

(Story)

Feb 09, 2017

Sexual assault case proves false, investigation ongoing

(Story)

Feb 02, 2017

What Trump's immigration ban means for international students

(Story)

Jan 26, 2017

In Memoriam: Beth Bouchard

(Story)

Dec 01, 2016

Letter of demands seeks to create sanctuary against hate

(Story)

Nov 17, 2016

Room for change: Housing Services set to transform University's room selection process

(Story)

Oct 20, 2016

A new home for news

(Story)

Sep 08, 2016

Students engage in wide variety of summer internships

(Story)

Apr 28, 2016

University celebrates 400th anniversary of Shakespeare's death

(Story)

Apr 21, 2016

David Roediger challenges student perceptions of the middle class

(Story)

Apr 14, 2016

Spring has sprung: Spring Awakening musical promises to captivate audience this weekend

(Story)

Apr 14, 2016

Gravitational waves discovered, Universe exploration continues

(Story)

Apr 07, 2016

8th annual pre-law panel: Alumni offer insight to aspiring lawyers

(Story)

Mar 31, 2016

Card Services and Student Transit relocate

(Story)

Mar 10, 2016

New academic journal provides outlet for excellence

(Story)

Mar 03, 2016

Peggy Grande empowers students to unlearn boredom

(Story)

Feb 25, 2016

Walk toward the fire: Conservative scholar challenges liberal views

(Story)

Feb 18, 2016

Preview: Annual sustainability symposium

(Story)

Feb 11, 2016

Anticipation builds for acclaimed scientist personality's arrival

(Story)

Feb 11, 2016

A spotlight on Zika: what it is, what it does, and why it matters

(Story)

Feb 05, 2016

Alumnae discuss careers in literary publishing

(Story)

Jan 27, 2016
Dec 03, 2015

Different Perspectives Create Interesting Lessons

(Story)

Nov 16, 2015

Bertschmann, Collins head University Communications as undergrad interns

(Story)

Nov 12, 2015

Mwaba, Mohammed, appointed as college of arts and sciences' undergraduate executive interns

(Story)

Oct 29, 2015

Students, alumni celebrate newly-moved First Night

(Story)

Oct 28, 2015

Writing Center holds final Personal Statement workshop of semester

(Story)

Oct 01, 2015

Race Kiosk drives students toward immaterial differences

(Story)

Sep 17, 2015

BSG discusses alcohol use, campus safety, and introduces committee slates

(Story)

Sep 02, 2015

Badal assumes new title as Dean of Students

(Story)