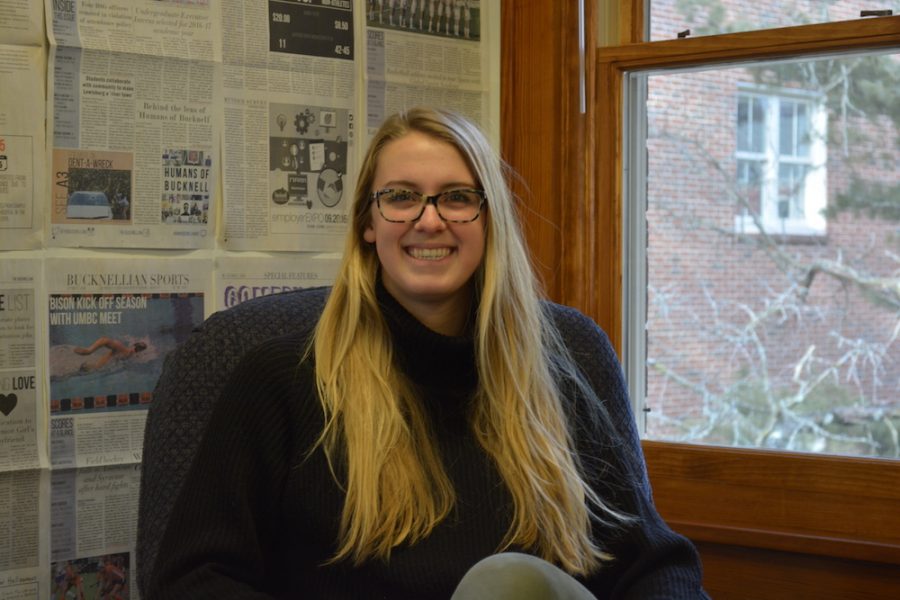 International Relations '18, Warren, N.J.
As an international relations major, Maddie was always interested in news. After transferring to the University as a sophomore, she found a passion in writing. By junior year, she began to write for The Bucknellian and discovered her love for journalism. Having enjoyed working with The Bucknellian staff so much, she looked for more ways to get involved and became a layout editor for the opinions section as well. This position seemed to be a good fit following her experience as a yearbook editor in high school.
When she is not studying for classes or writing, you can find Maddie cooking up fun recipes in her mod, hanging in the sauna, or being with friends.
Maddie Boone, Ops Layout Editor
Apr 26, 2018

Amazon Echo raises questions over consumer privacy

(Story)

Mar 08, 2018

Trump's claims of "no chaos" in the White House run counter to reality

(Story)

Feb 08, 2018

Ram, the biggest loser from this year's Super Bowl

(Story)

Nov 30, 2017

Meghan Markle and Prince Harry: Breaking royal conventions

(Story)

Nov 09, 2017

Anti-Trump sentiment comes to fruition in local election victories

(Story)

Nov 02, 2017

Kevin Spacey scandal indicative of larger societal sexual violence

(Story)

Oct 26, 2017

Just because he's young doesn't mean he's liberal

(Story)

Oct 05, 2017

Our responsibility to protect citizens is greater than our right to bear assault weapons

(Story)

Aug 31, 2017

"Political correctness run amok:" ESPN pulls announcer from game

(Story)

Apr 20, 2017

United Airlines passenger removal: A 'systematic failure' or an act of unwarranted aggression?

(Story)

Apr 13, 2017

The removal of Bannon reaffirms that Trump Administration is anything but static

(Story)

Apr 06, 2017

Internet privacy is on the rocks with new overturn of Obama's legislation

(Story)

Mar 09, 2017

New 'Beauty and the Beast' film becomes a tale of social progress

(Story)

Mar 02, 2017

188 years later, Scotland Yard appoints first female leader

(Story)

Feb 23, 2017

'The House' pokes fun at the University, but makes serious social commentary

(Story)

Feb 16, 2017

#SocialIssueAdvertising

(Story)

Feb 02, 2017

Finland pledges to be tobacco-free by 2040

(Story)

Jan 26, 2017

Ariel Winter posing topless promotes body-positivity

(Story)

Dec 01, 2016

JP Morgan scandal deepens American distrust in financial institutions

(Story)

Nov 17, 2016

Threats to reproductive and LGBTQ+ rights in a Trump presidency

(Story)

Nov 11, 2016

Male contraceptive side effects accentuate the burden placed on women

(Story)

Nov 03, 2016

Human domination: The age of Anthropocene

(Story)

Oct 27, 2016

Illegitimate voting system or whiny candidate?

(Story)

Oct 20, 2016

Flight ≠ guilt: Massachusetts court recognizes fear of police brutality

(Story)

Oct 06, 2016

Chromium-6 water contamination: A tale of ineffective government

(Story)

Sep 22, 2016

Snowden: Traitor or patriot?

(Story)