The changing viewing dynamic of the NFL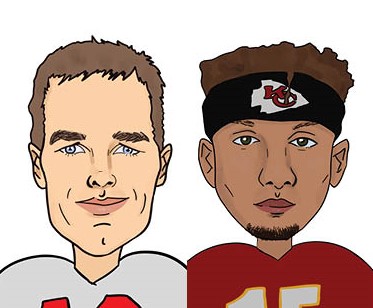 Tom and Pat; Pat and Tom.
The two quarterbacks faced off on Sunday for Super Bowl LV in Tampa, Fla. This face-off represented the conclusion of a competition like no other, bringing as much joy and satisfaction as every Super Bowl does. It also marked the culmination of a troubling fall sports season and the beginning of the off-season grind. Tom Brady and Pat Mahomes put on a show in which each could showcase their unique abilities. Could Brady nearly complete a pass with his body parallel to the ground? Could Mahomes have completed 21 of 29 passes? Whether or not they could, each had their independent styles and strengths. Mahomes was the first to go over and congratulate Brady – the 18-year age difference clearly did not negate the respect each had for one another. Even though the outcome declared one as a world champion and the other a loser, the goat and the baby goat do have one thing in common: both have been underrated their whole careers.
Mahomes grew up in the football powerhouse state of Texas. He attended Whitehouse High School and excelled at football, baseball and basketball. His father, Pat Mahomes II, had an illustrious MLB career which led many to assume that baseball was the path he would follow. However, the start of middle school marked the beginning of his fascination with football. Although he claims to have been much worse at football than baseball, Mahomes consistently expected more of himself and worked to be the best.
At 6'3", he possessed the physical frame necessary for a powerful field presence. Regardless, he was seen as a three-star recruit to most in his senior year of high school. Offers included Texas Tech, University of Houston, Rice University and Oklahoma State. No schools beyond the southwest even considered Mahomes. As a junior in high school, he was not seen as a valuable asset to add to any program in the SEC or ACC, not even Texas A&M.
Another layer to this mystery was that Mahomes was still a three-sport athlete in high school. College recruiting has evolved over the years, discouraging athletes from playing more than one sport and instead encourages them to specialize early. Now, if an athlete does not specialize early on, they are considered to be behind their fellow athletes. During the football off-season, Mahomes was playing baseball and basketball. He did not attend quarterback camps and showcases, automatically signaling a red flag to most coaches. Playing both baseball and football at Texas Tech meant that either the NFL or the MLB was fair game for a career. This fear of Mahomes sticking to baseball instead of football at Texas Tech made most coaches detract. In hindsight, Mahomes was a late bloomer. In fact, his starting position in high school wasn't secured until his junior year. College coaches are now probably scratching their head, trying to recall why their program did not consider Mahomes. If only we could turn back time, maybe the Aggies or the Longhorns could have utilized some homegrown talent to win a national championship.
West Coast born and bred, Brady grew up in San Mateo, Calif. After mailing out his highlight videos his senior year, Tom and his father were persistent about finding a home for the next four years. When looking for schools, Brady prioritized finding an institution with outstanding academics and athletics. He mailed his film to 55 schools, but ultimately only five schools supplied him with interest.In the end, his list narrowed down to UCLA, USC, University of Illinois, and Cal Berkeley as each were known for both academics and athletics to ensure that he would have a back up plan if football did not work out.
Mike Riley of USC was the only coach that went to watch Tom play, but head coach John Robinson wasn't interested. Bill Harris, the assistant coach for Michigan at the time, was in charge of viewing Brady's film since he specializes in West Coast players. One aspect that outshined Brady's physical abilities was his intangibles. Playing catcher in baseball and being the youngest of four siblings, there was a certain toughness that attracted Harris. Brady then took a visit to Ann Arbor and committed to Michigan a few weeks before signing day.
Both men have been crowned Super Bowl champions at least once in their career. Neither were five star recruits, neither were ranked in the top 10 of their class coming out of high school, and neither of them were thought to be the future of the NFL. When Tom Brady was drafted out of Michigan in 2000, Mahomes was five years old. One represents a journey of patience and cultivated greatness at the ripe age of 43, while the other embodies the young talent that can only get better after his loss. There is one thing both of these players have in common: they never lost their competitive edge to bet on themselves every single time.
(Visited 132 times, 1 visits today)