Athlete of the Week: Tessa Brugler '21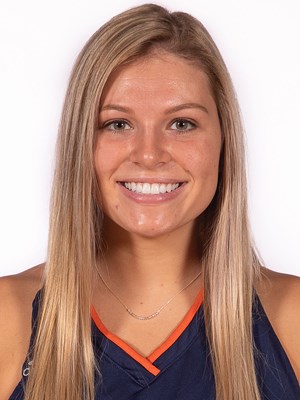 Bison women's basketball forward Tessa Brugler '21 was named Patriot League Women's Basketball Player of the Week, following the Orange and Blue's two big wins against Lehigh this past weekend. This is the second time that Brugler has been named player of the week this season, and the third time she has earned this recognition during her college career.
The Nazareth native is no stranger to success, as she dominated Pennsylvania courts throughout her high school career. Brugler was the first player at Nazareth High School to score 1,000 points before the end of her junior year. Brugler loves that the University is so close to her hometown, and that her family is still able to support her during her collegiate basketball career.
After coming off the bench strong during her freshman and sophomore seasons, Brugler worked tirelessly and emerged as a consistent starter and contributor for the Bison in her junior and senior years.
As a junior, Brugler played in 28 of 30 games, and started 25 of those games for the Orange and Blue. She averaged 9.8 points per game, 5.9 rebounds, and posted three double-doubles. Brugler was also named Patriot League Player of the Week after back-to-back double-double performances.
As a senior, Tessa has already posted five double-doubles. She is ranked second in the Patriot League in rebounding (9.9 rpg), and eighth in scoring (13.4 ppg). Brugler has started every game so far this season for the Orange and Blue, and continues to produce each time she steps foot on the court.
Brugler is not only a really important player for the Orange and Blue, but an outstanding leader as well. Brugler was named team captain this season for the second time. She is someone that younger players count on, and she is really happy about taking on this new position.
"Now it's like I've jumped into a leadership role where people look up to me, and it's very different," Brugler said. "I like it. The team relies on me, and I like the role that I have."
Teammate Marly Walls '22 spoke on Brugler's success, and how she has been such an impactful leader for the Bison this season.
"On-and-off the court, Tessa is such a hype-man. She feeds us so much energy in practice and games," Walls said. "She isn't only there for you in a basketball setting, she is there for you in all aspects of life. Her success this year is well-deserved, and a reflection of all of the hard work everyone has seen her put in."
Brugler is also really strong in the classroom for the Bison. She is an education major and a two-time member of Patriot League Academic Honor Roll.
"I'm really proud of the way we have been playing this year. We are able to connect not only on the court, but off the court as well and you can see that when we play," Brugler said. "We have great senior leadership and the underclassmen continue to push us everyday in practice. All 13 of us have been able to contribute to our success in one way or another and I'm super excited to see what our future has in store for us. Everything that I have accomplished couldn't have been done without my teammates so I have to credit them for it all."
The Bison are off to an 8-0 start for the first time in program history, and Brugler has been instrumental in this success. Despite the adversity that the Orange and Blue have faced this season, Brugler continues to deliver and is ready to compete when the Bison face their next Patriot League opponent.
Career Stats
92 Games Played
462 Points
330 Rebounds
66 assists
36 blocks
35 steals
(Visited 179 times, 1 visits today)