Athlete of the Week: Zach Hartman '22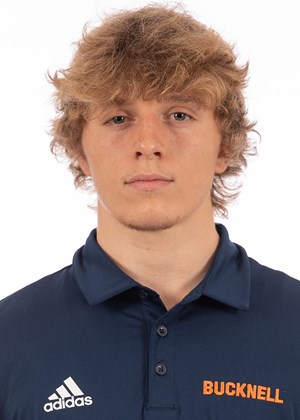 Zach Hartman '22 has been a standout athlete and leader for the Bison since stepping foot in Lewisburg as a freshman. In only his third year, Hartman has been named team co-captain of the Bison wrestling team twice, during his sophomore and junior seasons. Hartman is a two-time NCAA qualifier (2019 & 2020), a two-time EIWA placewinner, and he has tallied nine wins over nationally ranked opponents in his career thus far.
To add to his successes, this week Hartman was ranked seventh in the 165-pound weight class in the first NCAA Coaches' Panel Ranking. These rankings are used in the selection process to determine qualifiers for the 2021 NCAA DI Wrestling Championships at the end of this season. This is the second time that Hartman has been included in the Coaches' Panel Rankings.
Hartman enjoyed a strong campaign with the Orange and Blue during his sophomore season. He earned NWCA Honorable Mention All-American, and became the second Bison to finish as an EIWA runner-up two times. Hartman earned the 16th seed in the NCAA Championships, and was 27-8 overall and 13-1 in dual competition for the season.
Hartman is already off to an exceptional start in his junior season, and is 7-0 so far for the Orange and Blue. Hartman has notched two pins and one technical fall. In addition to his recognition with the NCAA Coaches Panel, Hartman has also been ranked top 10 nationally by Intermat and FloWrestling.
Hartman is humbled to have been named captain twice for the Bison, and credits his teammates for challenging him to be the leader and athlete that he is today.
"I have dedicated an extensive amount of time to working on my skills as a leader and really doing my part in orienting the guys in the best direction for their goals, and it has helped me out tremendously with figuring out myself. I know what needs to be worked on, and what I need to do in order to succeed at this level," Hartman said.
Like many teams on campus, Bison wrestling has faced a lot of adversity competing during the pandemic. As a leader, Hartman has been instrumental in guiding his teammates through these difficult times, and helping them to compete to the best of their ability.
"We've been controlling all of the controllables as a team and really have given ourselves the best chance to make our impact this season. Not only the workouts, but life outside the wrestling room has been in check for us all as well. We really have created a bubble that gives our guys the best chance to do what we do best," Hartman said.
The Bison are hoping to get back to competition soon, and Hartman is very confident that his teammates will be ready when the time comes. He's had a strong hand in building a team culture able to withstand the ups and downs of this season.
"As a team, we have had our faults in the past, but we continue to learn and prepare to win the war over the battle. I have full faith in my guys and am excited to see how we roll tide at EIWAs. Again, we're in for the war at the end of the day. I would go into the trenches with any one of these guys and have full faith in them having my back and me having theirs. We will be riding full throttle for EIWAs and nationals," Hartman said.
CAREER STATS
62 wins
9 wins over nationally ranked opponents
2 time NCAA qualifier
NWCA Honorable Mention All-American
(Visited 132 times, 1 visits today)