Athlete of the Week: Andu Vlasceanu '23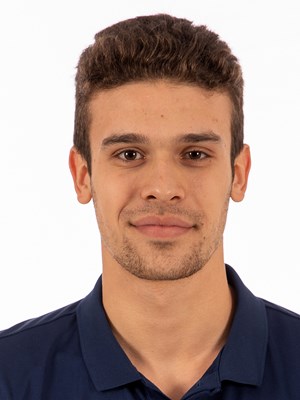 The No. 10 Bison men's water polo team started off their season strong this past weekend, splitting a pair of games against a tough opponent, the No. 9 United States Naval Academy. The Orange and Blue displayed a commendable effort in the first game, as they managed to defeat Navy 11-10 in overtime. Bison attacker Andu Vlasceanu '24 was pivotal to the team's success, burying three goals in just the second half of the first game.
The Romanian native was a standout for the Bison in his first-year season, receiving accolades such as MAWPC Rookie of the Year. Vlasceanu tallied 68 goals and 38 assists as a freshman, second only to a senior at the time, Rade Joksimovic '20. Vlasceanu scored three or more goals per game for 10  games this season.
The athlete started at attack in all 32 games for the Bison, and was named MAWPC Rookie of the Week three separate times over the course of the season. Vlascenau was also the first Bison to earn All-MAWPC awards since his former teammate Joksimovic earned them as a freshman.
Vlasceanu is not only an important asset for the Bison in the pool, but in the classroom as well. As a freshman, Vlascenau earned an ACWPC academic recognition for superior achievement.
When he is not representing the Bison, Vlasceanu is a frequent member of Romanian National Water Polo teams, and plays to support his home country. He has earned 66 selections to the U15, U17, and U19 Romanian National teams, and was even named captain of the U17 team in the Men's European Junior Championship.
Vlasceanu spoke on the Bison's strong effort this weekend explaining that "our team went to Navy ready to play and give 150 percent to win. We played our game and we managed to win the first game. I think that we made Bucknell proud. The team definitely looks different this year after losing four seniors, but I believe we will continue to grow and achieve our goals. I have faith in this program and I am certain that we will succeed."
The Orange and Blue are off to a solid 1-1 start so far this season, and are Vlasceanu and his teammates are ready to build upon this success heading into MAWPC Regional play next weekend.
Career Stats:
Goals: 71
Assists: 38
Games Played: 34
Games Started: 34
(Visited 255 times, 1 visits today)