Athlete of the Week: Darren Miller '23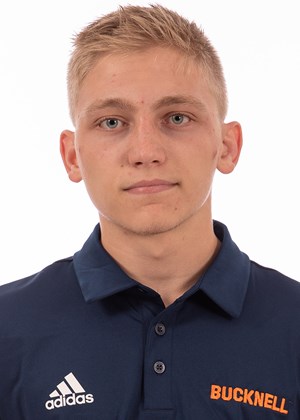 This past weekend, Bison wrestler Darren Miller '23 was key to the University wrestling team's success at the EIWA Championship, placing third in the 133-pound weight class. With his top-three placement, Miller earned his first automatic bid to the NCAA championships.
Miller has been consistently featured in the NCAA Coaches panel rankings this season. At the beginning of the season he was ranked 23rd in the 133-pound weight class, but climbed all the way to a 14th place rank following strong consecutive performances. 
Miller enjoyed a strong freshman season with the Orange and Blue, registering two pins with a 19-15 overall record. He was also one of three Bison to start every dual, represented the Bison at the EIWA Championships, and was included in the NCAA Coaches Panel Rankings in his first year. 
The Pennsylvania native has been involved in wrestling from a very young age. "I am the athlete I am today from training hard since I was in first grade. But that doesn't happen without amazing support from friends and family. I had people that loved me and wanted to see me grow and pushed me to become better," Miller said.
While the Orange and Blue are finished with regular season competition, Miller is looking forward to representing the Bison at the upcoming NCAA Championships. He has seen much success all season, but is hungry for more. 
"I would say I am very happy about my successes this year," Miller said, "but I am not satisfied. I am looking forward to NCAAs and seeing how I perform."
Miller also shared the pride he has for this season's team leadership; all of his teammates have been committed to making sure everyone had the opportunity to compete despite the pandemic. 
"Our team works hard on and off the mat, and I feel like you can see this from how everyone performed at EIWA's and from our COVID test results. The entire team has been making sacrifices to stay COVID free and make sure we had a season, and that kind of sacrifice leads to positive outcomes."
Career Stats:
24 wins
11 dual competition wins 
9 wins against EIWA opponents 
1 NCAA Tournament appearance 
(Visited 95 times, 1 visits today)