Athlete of the Week: Ashlyn Ramos '22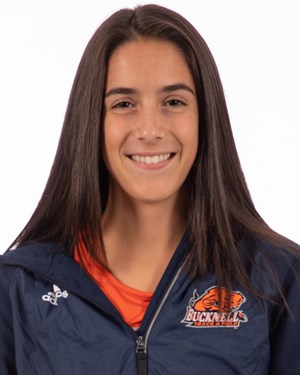 This past Friday, Bison runner Ashlyn Ramos '22 won an individual title at the 2021 Spring Patriot League Cross Country Championships held at Lehigh University. Ramos ran the 3.7 mile course in 19:34.7, beating out the Boston University runner just behind her. Ramos' individual title is the Orange and Blue's fourth in five years. 
Ramos has been a standout for the Bison in her sophomore and junior seasons. In 2019, Ramos was named to the Cross Country All-Patriot League First Team. This year Ramos is already slated to compete at the NCAA National Championship in Stillwater, Oklahoma this coming March following her outstanding performance at the League Championship.
Ramos credits her team for her success so far this season, and appreciates the way her teammates push her to be the best athlete she can be. "I think being part of a driven and supportive team has helped me so much, because being surrounded by people who are excited about competing and training makes me want to work harder," Ramos said. "Cross country is such a team sport, so anything I can do to be better for the girls I'm on the line with is very important to me and has made all the difference."
Ramos teammates and the supportive team culture make all hard work worthwhile. "My favorite memory is from the cross country Patriot League meet in 2018 when we completely crushed everyone. I wasn't even in the race, but watching our girls all run incredibly well on our home course in the pouring rain was amazing and very inspiring. I think if you asked most people on the team what their favorite memory is they might have the same answer."
This was the Bison's first official meet since the COVID-19 pandemic shut down Patriot League competition last year. While Ramos and the team are not satisfied with their third place overall finish, it is a step in the right direction heading into NCAA's and next season.
Ramos explained that "placing a close third at a championship meet where every other team has been racing shows how deep we are right now, which is very exciting for the team. Even though we have had to practice in small groups I think we have all made each other so much better this past year. We are only graduating one senior this year, so next cross country season I think we will definitely be a team to watch out for."
Career Stats
All-Patriot League First Team (Cross Country 2019)
All-East (2020 Indoor)
Patriot League Championships Finishes
4th – 3000 (2020 Indoor) (9:59.78)
6th – 5000 (2020 Indoor (17:24.95) 
6th – (2019 Cross Country) (22:15.5)
(Visited 194 times, 1 visits today)