Athlete of the Week: Julia Bradbury '21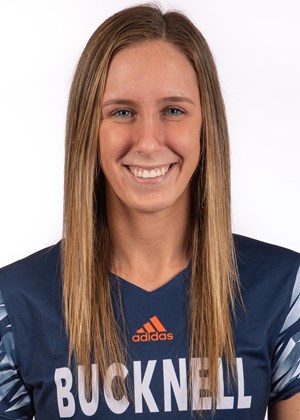 This past weekend, the Bison women's lacrosse team opened up Patriot League play with a strong 15-7 win over Lafayette. Midfielder Julia Bradbury '21 netted five goals on the day and was crucial to the team's victory. This was Bradbury's career high for goals and points in a single game, topping her previous record of three. 
Bradbury has been an impactful player for the Orange and Blue since her freshman season, and has played in 36 games since stepping foot in Lewisburg, 10 of those games being starts. Bradbury was also named a captain for the Bison this season, alongside teammates Mason Rode '21, Kali Peeples '21 and Eva Macris '22. 
Off the field, the biology major excels academically, and earned Patriot League Academic Honor Roll accolades during her freshman and junior seasons. 
This year, senior athletes who's sport competes in the spring, like Bradbury, have not had the opportunity to compete in the Patriot league since their sophomore season, so she is really excited to be able to compete in the league with such a strong team. 
"Playing games within the Patriot League adds an extra sense of rivalry and it's going to be exciting to see how much our team has improved over the last two years. We could already see it in our game against Lafayette on Saturday, who we beat 15-7, yet two years ago we went into overtime with them,"  Bradbury said. "It's been great to already see our team's older talent mesh with the younger talent. It shows how much potential our team already has, and I'm excited to see it develop even more throughout this season." 
While last weekend the Bison suffered a tough loss, Bradbury kick started the play that led to Emma Cashwell's '22 buzzer beater goal that sent the game into overtime. Bradbury expects the team to build even more against their first two games, and commented on how she expects big things for the Orange and Blue this season. 
"All last week we pushed each other every day to prepare for the game on Saturday. It was great to get the first nerves out and get focused in on our play. If we keep that up for the rest of the season I see us being really successful," Bradbury said. 
Unfortunately, Bradbury's junior season was cut a bit short due to COVID-19, but she is still thankful for her teammates constant support during her time as a Bison. 
"I think I've become the player I am today because I've been surrounded by great teammates that push me to be better every day. We are never lacking motivation and are constantly pushing to improve, which has helped me to keep my focus and keep working hard," Bradbury said. "Our team makes the best out of every situation and there is never a dull moment when we're all together. I couldn't be more grateful to have spent the past four years with my teammates. The memories we have made on and off the field are some that will last a lifetime." 
The Orange and Blue return to action this coming Saturday, March 20, facing no. 12/13 ranked Loyola on their home turf. 
Career Stats
36 Games Played
10 Games Started
32 Goals
4 Assists
36 Points
(Visited 111 times, 1 visits today)