Athlete of the Week: Chloe Christakos '21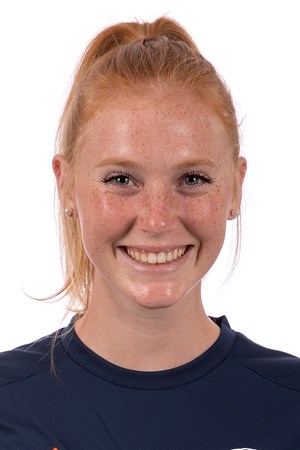 This past weekend, the Bison women's soccer team earned their first victory of the season. Center back Chloe Christakos '21 scored the Orange and Blue's first goal of the season, with a header off a corner-kick in the 41st minute. Christakos is not only a key offensive threat for the Bison, but also the centerpiece of a very strong back line thus far this season.
Christakos stepped into an important starting role at center back during her junior season with the Orange and Blue, after coming off the bench during her freshman and sophomore seasons. Christakos has played in 30 games in her career, has been a starter in 19 of them, and has totaled an impressive 2059 minutes on the field. She has netted four goals, two of those she tallied in important conference matchups.
Christakos was also named a Preseason All-Patriot League Defender at the beginning of this season for her stellar efforts in the back line. She is part of a group that has only allowed one goal in 400 minutes of play so far.
The Arizona native made a big decision to travel all the way across the country to attend school in Lewisburg four years ago, but Christakos is beyond satisfied with her decision.
"Choosing to compete at the Division I level at a school across the country from my family was a difficult decision, but my parents and siblings have supported me every step of the way. My amazing teammates also challenge me to be the best athlete I can be, and I am so grateful for a strong coaching staff who believes in me and has given me this opportunity," Christakos said.
Christakos is no stranger to success, as she describes winning a Patriot League title as one of her favorite memories as a part of the Bison women's soccer team.
"My absolute favorite memory competing at Bucknell was winning the Patriot League championship during the fall of my freshman year! The countless bus trips, hotel stays and team bonding activities both on an off the field are truly something I will never forget. I have made so many other amazing memories with my teammates throughout my four years at Bucknell and am so thankful to be a part of such a close knit group of strong women," Christakos said. 
The chemical engineering major also excels in the classroom for the Bison, as she is a consistent member of the Patriot League Academic Honor Roll. Christakos plans to work as an engineer at Clark Construction in Washington, D.C. upon graduating.
Christakos is really thankful for having the opportunity to compete in the Patriot League for one final soccer season after the uncertainty of the fall.
"Although my senior season is definitely not what I had imagined, I am so thankful that Bucknell was able to make it possible! Even though the season is shortened to a few games, I am making the most of every second." 
Career Stats:
30 Games Played
19 Games Started
2059 Minutes
4 Goals
2 Assists
(Visited 256 times, 1 visits today)