Athlete of the Week: Mason Rode '21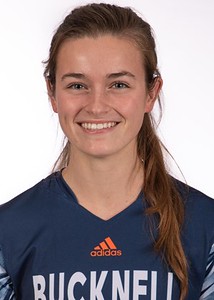 This past weekend, the Bison women's lacrosse team picked up their second win of the season against conference rival American University. Senior midfielder Mason Rode '21 was pivotal to the team's victory, posting three goals (this being her second hat-trick in a row), eight draw controls and two caused turnovers.
Rode also added eight ground balls on the day, matching the school record. Rode is the seventh Bison to record this many ground balls in a single game, and the first since the Orange and Blue's 2019 campaign.
Rode has taken on a big leadership role for the Orange and Blue in her junior and senior seasons, after coming off the bench for her first two years with the team. Rode has logged minutes in every game so far this season and last season, and has recorded a total of eight goals.
Heading into her last season, Rode explains that spending time with her team before games is one of her favorite memories.
Rode says that she likes to "look back on pre-game moments. Over the years we have shifted pre-game traditions but the high energy has always carried over. Games can be overwhelming and high-pressure but the team has always found a way to remind ourselves that we play best when we are loose and having fun." 
Like many teams, Bison women's lacrosse has faced much adversity with the pandemic conditions, but Rode explained that she is just excited to be back and competing with her teammates.
"It has been really exciting to be back in Patriot League competition after losing league play last year. Our game preparation this season has felt very intentional. I think it has been really exciting for the seniors to see how much the team has changed over the year and how our playing style has shifted to incorporate players' talents."
Rode attributes her growth as a player and person to the competitive nature of the lacrosse program, and the positive culture of the school as a whole.
"When I came in first-year, I had a lot of older midfielders to look up to, and I was able to learn a lot from them over the years. It was challenging at times feeling like the youngest or the weakest, but I think it ultimately helped prepare and fuel me for competition," Rode said. "The balance between athletics and academics has really helped me grow as a person at Bucknell. Being part of a team has given me an amazing opportunity, and the lacrosse program has always supported me in academics and extracurriculars."
The mechanical engineering major is also a standout in the classroom, as she has earned Patriot League Academic Honor Roll accolades every semester. The senior plans to work at ME Engineering following graduation.
Rode and the Bison return to action this Saturday, April 10 versus Colgate at Graham Field, and hope to build off this weekend's strong conference victory.
Career Stats
28 Games Played
3 Games Started
8 Goals
1 Assist
(Visited 220 times, 1 visits today)