Athlete of the Week: Ally Furano '21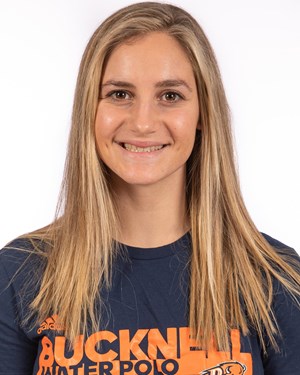 Ally Furano '21 has been a standout for the Bison women's water polo squad since first setting foot in Lewisburg. As the Orange and Blue closed out their regular season schedule this past weekend, earning decisive victories over Mount St. Mary's and Saint Francis, Furano's performance remained vital – she posted a dozen total goals in one day.
Furano started off strong during her first season with the Bison, playing in 29 games and starting 16 of them. She led the team with 60 goals and added 13 assists.
Furano then went on to enjoy breakout sophomore and junior campaigns. As a sophomore, Furano set the school record for goals in a single-season with 123, and points with 178. During her junior season, Furano set the school-record for goals in a single-game, totaling eight on the day. She also became the all-time leader in career goals.
Furano's unmatchable work ethic has allowed her to succeed as one of the top Bison water polo players to ever come through the program. She attributes her dedicated mindset to her family and coaches, explaining that her "parents have instilled the importance of sacrifice and seizing every opportunity, while supporting me throughout my athletics journey. Each of my coaches have pushed me to my limits, challenged me, and taught me valuable lessons of determination, sacrifice, and mental toughness that have allowed me to be the athlete I am today."
Furano has also had the pleasure of competing alongside her sister, Paige Furano '22, who is also a member of the Bison women's water polo team.
"Some of my favorite memories at Bucknell are centered around grueling practice, six-hour bus rides and team bonding activities. Also, being able to compete with my sister for four more years has been an unforgettable opportunity to play together one last time as Bucknell students," A. Furano said.
Given the uncertainty of this past year, A. Furano is really excited that she was given the opportunity to compete alongside her amazing teammates and her sister for one last season. The Orange and Blue are set to compete next at the CWPA Championships held at the University of Michigan on April 24. Furano is hopeful for the tournament, and looks forward to competing one last time.
"I honestly went into this semester not expecting to even have a season. Being able to compete with my team for one final season means the world to me. I know my fellow seniors and I will forever be grateful for the opportunity to play together one last time as Bucknell students."
Career Stats
247 goals
80 assists
327 points
(Visited 116 times, 1 visits today)