Athlete of the Week: Erin Zielinski '22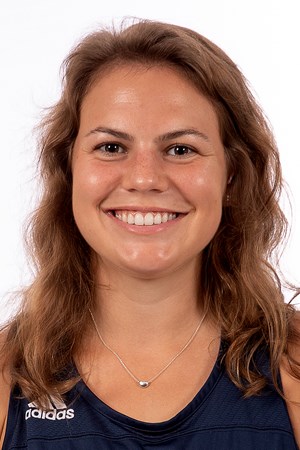 This past week, the Bison field hockey team captured the Patriot League tournament title, following strong victories over American University and tournament hosts, Boston University. Although the Orange and Blue struggled a bit out of the gate, veteran defensive leaders helped rally to turn the season around.
Center-back Erin Zielinski '22 was one of those important leaders for the Bison, and guided this underdog team to their first league title in program history. Zielinski has tallied an impressive total of 31 games played during her stint with the Orange and Blue, 26 of those being starts. She has started every one of the Bison's matchups since her sophomore season.
"I still can't believe that we won. We worked so hard this season and had to adapt to a lot of changes that were thrown our way, yet our team was incredibly resilient. Starting off the season 0-3 wasn't easy, yet we tried to focus on the progress we were making each game rather than the end result," Zielinski said. "After beating American on our home turf, it really gave us the confidence that we were moving in the right direction. I'm so proud of everything my team has accomplished. It wasn't easy, especially after our regular session being cancelled, but we worked hard and pushed through together."
Zielinski earned several accolades for her performance leading up to, and during the Patriot League tournament. She was named All-League First Team for her regular season performance; Zielinski was part of a Bison defensive unit that only allowed one goal per game in the latter portion of the season.
Zielinski was also named to the All-Tournament team for her continuing stellar defensive performance. Assisting on the game-winner in overtime versus Boston, the young athlete secured a tournament title for the Bison.
Zielinski spoke on the teams success this season, and how that is preparing the Orange and Blue to compete again this coming fall. "It's crazy that we're already thinking ahead to next season. But, knowing how much we accomplished this year together, I'm really excited for what's to come. As with anything, we still have a ton to work on. However, having been the first team at Bucknell to win the Patriot League title and knowing how it feels to step off the field having earned it, I think we're even more motivated than ever before."
In addition to her contributions on the field, Zielinski is also a standout in the classroom for the Bison. The Chemical Engineering major is a two-time member of the Patriot League Academic Honor Roll, and one-time member of the NFHCA Division I National Academic Squad.
Zielinski credits her success to her strong support system. "Our team is very close, and by creating a team culture in which we support and push each other every day, we were able to become one percent better each game. We are also incredibly fortunate to have incredible support from our parents, coaching staff, athletic trainers and strength coaches. They have all played a part in helping us become the team we are today, on and off the field."
Career Stats
31 Games Played
26 Games Started
1645 Minutes Played
1 Assist
(Visited 89 times, 1 visits today)