Athlete of the week: Alex Butz '21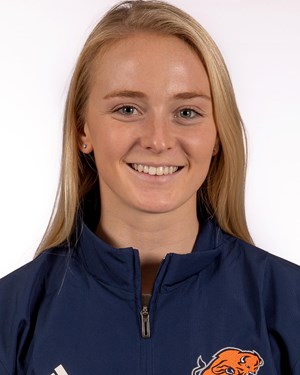 This past weekend, the Bison men's and women's track and field teams competed in the Patriot League championships. Alex Butz '21 won her first Patriot League gold medal with the Orange and Blue in the high jump (5-6.5). The Bison placed third overall at the meet.
Butz spoke on the teams success at the meet this past season, explaining that they "did really well at the Patriot League Championship overall. We came in third to Army and Navy compared to last year when we got fifth, so it was a huge improvement overall. Also to put it in perspective we got almost double the points this year than we did last year. We have a lot of people moving onto the ECAC championship and a few qualified for NCAAs, so I'm just really proud of how everyone's hard work is paying off."
Butz has been an important member of the Bison track and field team since her first year in Lewisburg. During her career with the Orange and Blue, Butz has been named Second Team All-Patriot League in 2018, 2019, 2020 Indoor, and for her high jump performance. 
"I am the athlete I am today because of my coaches and teammates. My teammates are constantly pushing me to be the best version of myself so I owe a huge thanks to all my teammates this year and especially my teammates from previous years who were my role models." Butz said. She specifically credited her former teammates Lexy Forrestal '20, Sydney Contrino '20 and Isabella Bjorkeson '19 for helping her grow both as an athlete and a person.
In addition to her stellar athletic performance, Butz is also a strong force in the classroom for the Orange and Blue. The Global Management major earned Academic All-Patriot League honors in 2020 for her academic prestige.
Butz is thankful for the last moments she has gotten to spend with the Bison track and field squad as her time in Lewisburg comes to a close. "Being able to compete for my senior season felt like such a blessing after the year we've had. We didn't get to have an indoor season so we tried to really enjoy every outdoor meet we got."
(Visited 126 times, 1 visits today)