Athlete of the Week: Jordan Miller '24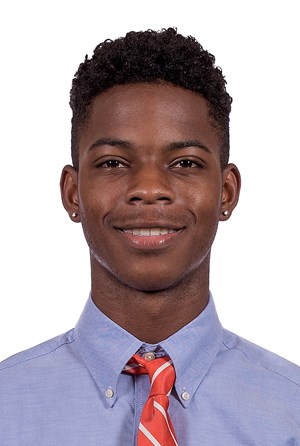 The Bison men's soccer team started their season against some very high-level teams, including ACC powerhouses UNC and Wake Forest. Their record consequently suffered early on, with the team netting 0-3 for their first set of performances. To bounce back, the Bison had the opportunity to compete against Mount Saint Mary's and St. Bonaventure this past weekend, coming out victorious in both. Three out of the four goals scored in the 2-0 weekend were scored by just one player, Jordan Miller '24. Deservingly, Miller received the honor of being named the Patriot League Offensive Player of the week, and has also proven himself more than a simple forward. 
The sophomore from Kingston, Jamaica made both offensive and defensive contributions in the spring of 2021 season. Against conference rival Lafayette, Miller played center defense for all 90 minutes of the contest. He made appearances in four out of six games in his rookie season – starting two – and started the first two matches of the fall 2021 campaign. After this weekend, Miller counts four total goals for the season and his collegiate career; he also scored the lone goal for the Bison in their 2-1 double overtime loss to Saint Peter's on Sept. 4. 
"This weekend was definitely a special one that I won't ever forget. In the past few weeks, I was getting really frustrated because I was yet to play a game for Bucknell and come out victorious. So achieving two wins in one weekend and scoring three goals to help the team win was definitely something special," Miller said, speaking rather nonchalantly about his elite level performance. 
The two wins this weekend were special indeed. This was the first win for the Bison since March 13 when they played American University, the Patriot League conference champions last season. That was only the second game for the Orange and Blue of the spring season, so these wins have been a long time coming. 
"The guys on the team are all hungry for more wins and we want to continue our streak as long as possible. I believe in my teammates and once we all buy in and work for each other, there is no team that can get in our way of a championship," Miller said, expressing high hopes for the rest of the season.
In Loretto, Pa. Wednesday, Miller continued to deliver, even though the Orange and Blue suffered a loss against St. Francis. Late in the second half, while the Bison were down 2-0, Miller found the back of the net yet again. With this, Miller has become the first Bison in six years to score in four consecutive games.
The team hopes to restart their win streak into another set of away matches this Saturday, after they start Patriot League play in Easton, Pa. against Lafayette College. 
Career Statistics:
10 games played
4 games started
483 minutes played
5 goals
9 shots on goal
(Visited 119 times, 1 visits today)