Athlete of the Week: Lily Neilson '25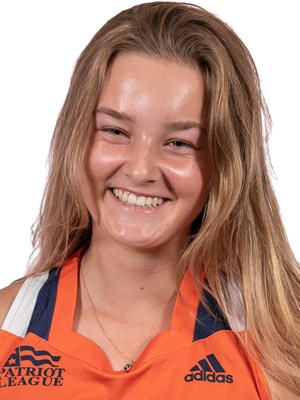 The Bison field hockey team has started their season strong with a 5-2 record thus far. Within these seven games, there have been 18 goals. 7 of these goals have been scored by first-year midfielder, Lily Neilson '25. She has scored in the contests against Long Island University, Villanova University and College of the Holy Cross.
The native of Armidale, New South Wales, Australia, has had significant playing time in all the contests thus far. She is a key player for the Bison, not only as a skilled midfielder but also as an exceptional penalty corner shooter. The rookie totals 18 shots on the season, and this past weekend in the 7-2 win against league opponent the College of the Holy Cross she broke the school record for most goals scored in a game with five in the contest. The five goals also tied a 31-year-old Patriot League record for most goals scored in a contest. In the 4-2 win over Sacred Heart University the following day, Neilson also supplied an assist on Rachel Apa's '24 game-tying goal. 
For having such a great weekend, Neilson was awarded as both the Patriot League Offensive Player of the Week and Rookie of the Week. Senior Erin Zielinski was also honored as Defensive Player of the Week. 
"I thought Saturday's game was such a good display of how our short game and connections as a team has improved dramatically. The supporting lines everyone ran this weekend really set us up for success," Neilson said.
The record-breaker and her team are headed to the city of Boston this weekend to play the 2020 Patriot League runner-up Boston University, as well as No. 14 Harvard University.
Career Stats:
7 games played
7 goals
1 assist
11 shots on goal
(Visited 173 times, 1 visits today)