Athlete of the Week: Lily Neilson '25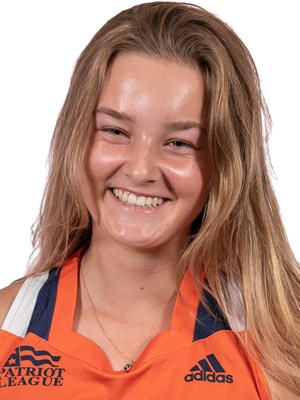 After another stellar week, Lily Neilson '25 was named Athlete of the Week for the second consecutive week. She tallied four more points as the Bison went 1-1 this weekend against Boston University and Harvard. She is now the leading scorer in the entire Patriot League with nine goals. 
Through the first nine games of her career, Neilson has been spectacular. She has scored nine goals and tallied one assist including a game winning goal in overtime against Boston University. Even against a tough Harvard team on the road, Neilson managed to tally the Bison's only goal in the contest in a 4-1 loss. 
The native of Armidale, New South Wales, Australia, has had significant playing time in all of the contests thus far. She is a key player for the Bison, not only being a skilled midfielder but an exceptional penalty corner shooter. The rookie totals 22 shots on the season, and holds a share of the Patriot League and school single game goal record with five against Holy Cross earlier this season. 
"I thought Saturday's game was such a good display of how our short game and connections as a team has improved dramatically. The supporting lines everyone ran this weekend really set us up for success," Neilson said.
The star first-year and her team are headed to Washington D.C. this weekend to take on American University.
Career Stats:
9 games played
9 goals
1 assist
22 shots on goal
(Visited 55 times, 1 visits today)