Athlete of the Week: Rylee Donaldson '23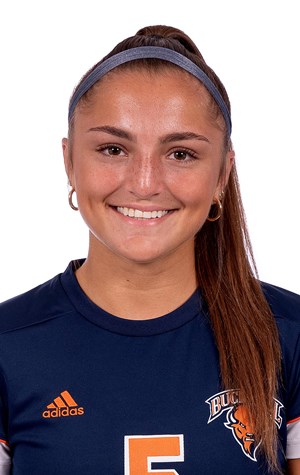 The Bison women's soccer team is tied for second in the league this season with a real potential to bring home the championship thanks to forward Rylee Donaldson '23. The junior currently leads the league in goals scored with nine on the season, six of them occurring in conference games. This season, Donaldson has started all 15 games thus far contributing 19 points from the nine goals as well as an assist in their close game against Monmouth University early in the season. Two of her goals came in one game which highly contributed to the Bison's 4-2 win over conference rival, Navy. 
This fall season has proved to be a winning one with a 7-6-3 overall record and a 4-1-2 conference record. Donaldson certainly loves her team and has high hopes for the remainder of the season. 
"This season has been a big one for us as a team and we are nowhere near finished. We have amazing chemistry off the field and it translates directly into our play. The team is very tight knit and is a culture that I am proud to be a part of. Everyone shows up to practice to get better every day and the hard work is a huge part of our success this season," Donaldson said.
While this season has been Rylee's most accomplished one, the forward has always been a crucial member of the team. In her freshman campaign, she saw the field in all 18 of the games and started two, scoring a goal in a match against Lehigh and supplying an assist for the game-winner against Towson. In her abbreviated sophomore season, the junior started three out of the four games. 
Donaldson has really stepped into a leadership role in this 2021 season and she credits this to the hard work she has put in. 
"I worked super hard over the summer to prepare for this season, and I felt ready to come in and help my team be successful. Our offense this season has really come together, and it starts all the way from our defense through the midfield and front line. The combination play has been great and my teammates have put me in really dangerous spots to get the ball in the back of the net. It's been awesome scoring goals, but the best part is getting wins and having success as a team," Donaldson said. 
The Bison have certainly been scoring goals and earning wins all season. They go head-to-head with conference opponent Army this Friday in West Point, where Donaldson will likely once again make a major impact. 
Stats:
36 games played
20 games started
1823 minutes played
10 goals
2 assists
64 shots on goal
(Visited 113 times, 1 visits today)