Athlete of the Week: Noor Kaur '23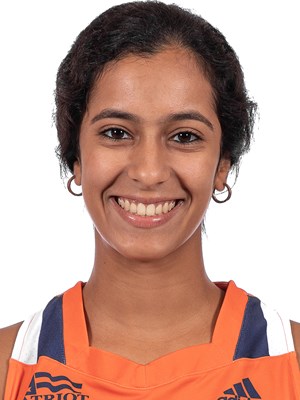 The Bison field hockey team has already clinched a spot in the Patriot League Tournament with the help of record-breaking player Noor Kaur '23. In the Bison's important game against league rival Lehigh University, which finalized their placement in the tournament, the junior had a whopping five assists on the six goals scored in the game. This number not only broke a program record, but also broke a NCAA record. Thus far in this 2021 fall season, the most assists any one player in all of division one field hockey had in a game before Kaur's contributions at Lehigh was three. Kaur obtained such a high amount of assists because of her perfect inserts on penalty corners. She set her teammates up for success time and time again. Four of the assists came from corners, while one came from a beautifully placed pass to fellow field hockey star Lily Neilson '25, who reversed and chipped the shot past the Lehigh keeper. 
Kaur spoke on her successful game, which earned her the Patriot League Offensive Player of the Week Honors, as well as Bison Athlete of the Week. "I'm really happy with the plays I was able to set up for my team and the outcome we earned. And as proud as I am for myself, I am equally proud with my teammates for creating opportunities for me and for finishing opportunities I created for them" Kaur said. 
The midfielder has been a crucial part of the team since her freshman year, appearing in every single game since she joined the team. Kaur's career statistics include eight assists and a goal. 
Field hockey has always been a prominent part of the junior's life. She credits her father for her love for the sport. "My dad played field hockey and he always wanted my brother and I to play sports because he loves them so much. I had tried a bunch but nothing was really fitting for me so he decided that he would teach me hockey when I was about nine. He was my first coach, and 10 years later he remains one of my biggest role models and supporters," Kaur said.  
Kaur and the Bison have two more games in their regular season before hoping to reclaim the league championship they earned for the first time in the spring 2021 season. 
Career Stats:
43 games played
1 goal scored
8 assists
9 shots 
(Visited 82 times, 1 visits today)