Athlete of the Week: Teresa Deda '25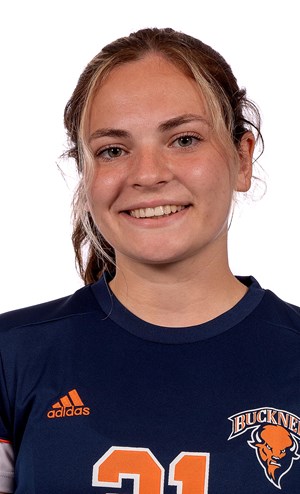 The Bison women's soccer team is having an incredible season! Their preseason poll ranked them second to last in the league, but the team proved that wrong, coming up victorious as Patriot League champions. Midfielder Teresa Deda '25 is a major contributor to the team, specializing in corner kicks.
Prior to the onset of Patriot League tournament play, Deda was selected for first team All-Patriot League. During the regular season alone, the freshman had 11 assists and a goal, which is an impressive accumulation of points, especially for someone who is not on the forward line. On the season, Deda ranks first in the Patriot League and eighth in the nation in assists. In addition to her assists, Deda has also scored two goals on the season. Despite the small tally, Deda's goals have always come in critical situations – she started all 21 games of the season. The team won 1-0 in both the semifinals and the finals for the Patriot League tournament, and Deda is to thank for both goals. In the semifinals Deda secured an overtime victory for the Bison, racking an impressive solo goal. In the finals, it was Deda's corner kick that forced a goalmouth scramble, leading to the Bison's lone goal. For her efforts throughout the tournament the first-year was granted All-Tournament Team honors and MVP of the entire tournament. 
Deda talks on the amazing Patriot League win, as well on how much her teammates mean to her. "It's so surreal to have won the Patriot League!" Deda exclaims. "We have all worked so hard since August to get to this point, and I couldn't be prouder of this team. I'm so lucky to be a part of such an inclusive, dedicated team that has pushed me to better myself throughout the season. Winning MVP was super exciting, but I was just so happy I could help my team hoist the Patriot League trophy." 
Deda and the team will take on number one seed Rutgers in the NCAA tournament on Saturday, Nov. 13, where they will have a shot to advance to the NCAA championship game.  
Career Stats:
21 games started
12 assists
2 goals
62 shots on goal
(Visited 151 times, 1 visits today)